MADISON, GA —  Last night's scrimmage was against Columbia High School, a 3A school from Atlanta. In the interest of journalistic integrity, they are actually in located in Decatur off Columbia Ave.
You can follow their basketball team on Twitter. I chose not to follow them at this time because I haven't reason to. I am not a sports journalist. 
I am a mom with a blog.
With that disclaimer….
Story of the game: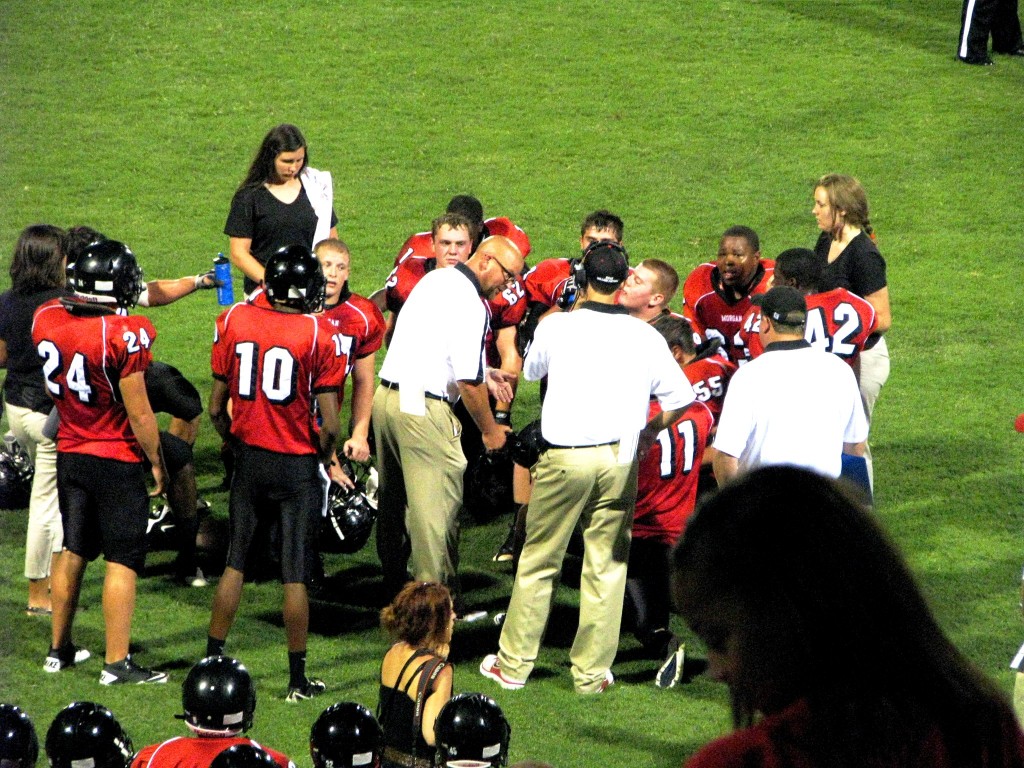 *  Rain delay.
Rain and lightening caused two delays (and eventually ended game at half). Both teams played about 15 plays. Three drives each.
The first delay happened with 9:07 left in 1st Quarter. This resulted in a nice social hour.
I caught up on Aubie Knight's chase for a 4:30 in the Savannah Marathon this November. Robin Couch's life in a frat house. (At least that's how she described summer with a house full of her boys and their friends.) And once again I marveled at how Rhonda Spence keeps the same adorable figure — year after year after year.
So much for the rain delay.
* Speed Kills.
The Eagles dripped speed. A misstep by the Bulldogs and that was it.
Before the game, my son said the DE he was to line up against committed to Auburn.
At the game, I heard six guys committed to Div. I schools.
After the game, my husband said they had five guys committed. Two to SEC,  two to ACC and one to Ohio State (That's the Big Ten.)
Today at Hibbets, Ray Stapleton said he heard they had four athletes committed.
So if you want the real scoop, tweet the Eagles. For remember:
I am just a mom with a blog.
But I feel safe in saying they brought some great athletes to Bill Corry Stadium last night.
* Game Summary
The Bulldogs were losing 14-0 at the half when they called the game due to weather.
That said,
It was just a few big plays that resulted in points.
One rushing touchdown happened after a defensive unsportsmanlike penalty on the Bulldogs gave the Eagles another shot after the Bulldogs had stopped them at the goal-line on 3rd and 4.
The other was a long breakaway pass and run from the young man attending THE Ohio State University. (I guess someone surely told him about the Jim Tressel thing before he signed on the dotted line.)
It was just to be nice sitting with friends in the stands again. A happy fifteenth birthday today to #26 Jack Speyer. Learned that visiting with his mother last night.
That's what I do best. Sit, chat and pull for those sweet youngun's wearing the Red and Black.
for I am
Just a mom with a blog.
Home Opener, August 26 against Walnut Grove (Not to be confused with China Grove a song by the Doobie Bros that I remember listening to on a little black AM transistor radio.)
What was your take on the game last night?