"But I don't have any in leopard."
That was my daughter to me — talking about bras.
*  *  *
Having returned from four nights away from my children, I was attacking the pile of laundry stacked in my bedroom.
My 11 year old came in and said, "We have to talk."
Her dark brown eyes searched mine.
"I need more bras."
"Hannah. You have a ton of bras. You have more than me."
That's when she came up with the "Well, I don't have any in leopard" remark.
I've written about this before. My tween baby and her full-court press to get a bra with cups.
Even though I am quite the strong swimmer, even aquatic aficionados get worn out facing a daily tidal wave of "buy me a bra with padded cups."
So I went up to our local megastore and bought bras with bulging breasts and handed them to my child. That satisfied her thirst for frilly intimates for about three months.
Until this latest quest for the leopard bra. In the interest of having Christmas peace and harmony reign supreme, we went into Atlanta yesterday to shop for clothes.
First we took in some nourishment.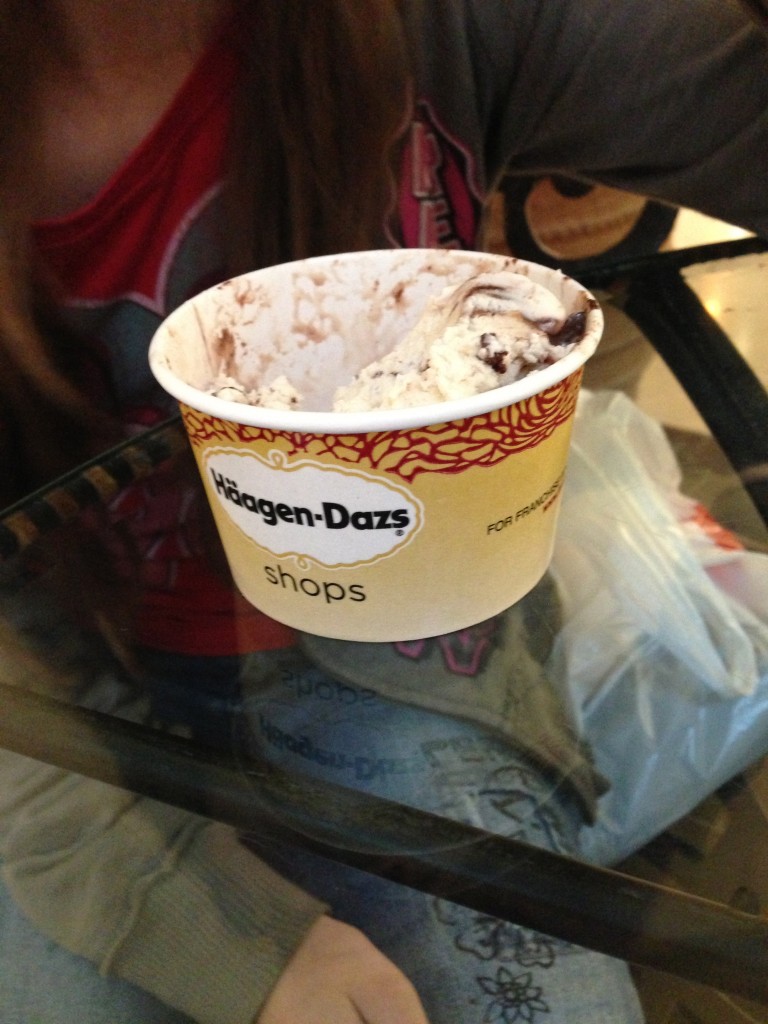 Then we hit the shops.
Gone are the days that I try to pick out anything for her.
Evidently, Aeropostale is the epicenter of an 11 year old's clothing universe.
Buying a few things and  coaxing her out of Aeropostale den, after even she admitted you can't wear sweats every day, we tried the department stores.
First she wanted to hit the Juniors.
Thankfully, nothing fit her there and reluctantly she followed me up to the girls department keeping an appropriate not-wanting-to-be-associated-with-the-lady-dragging me-to-the-girls-department distance.
She found a few jeans and a shirt that didn't look too babyish.
While we were checking out, she turned and said, "What about the bras?"
I asked the sales lady where were bras for tween breasts. She pointed to the back of the department.
"It looks like Victoria's Secret over there," she laughed.
I smiled (ugh) and my daughter lit up like a Christmas tree on mega doses of Estradoil.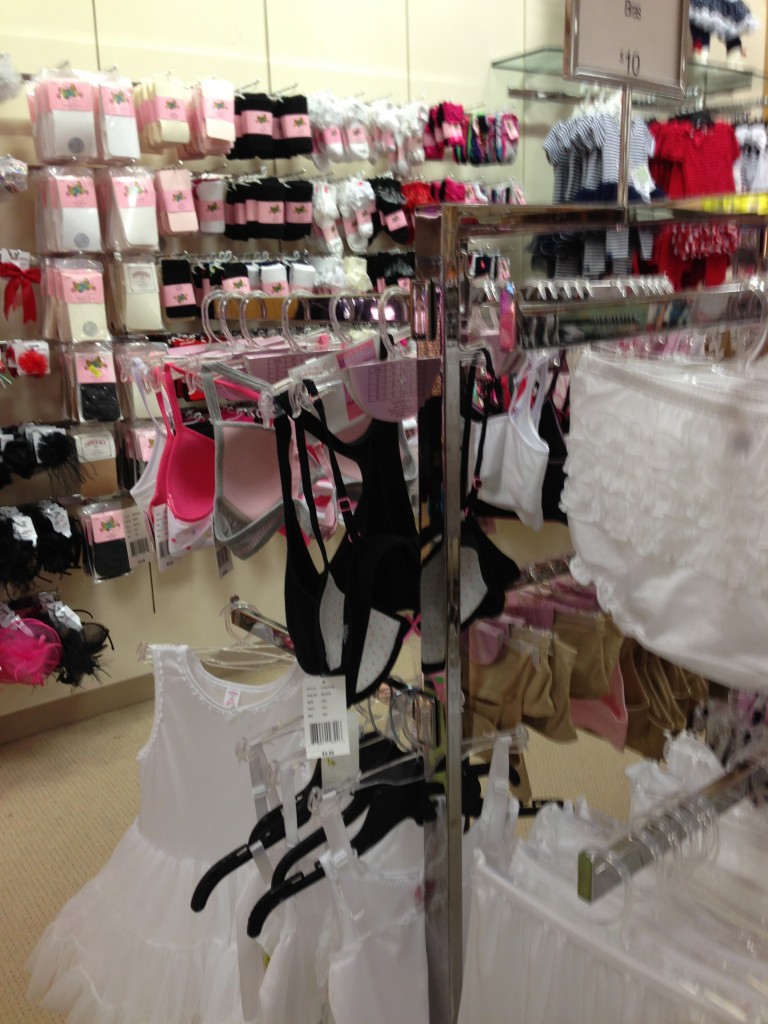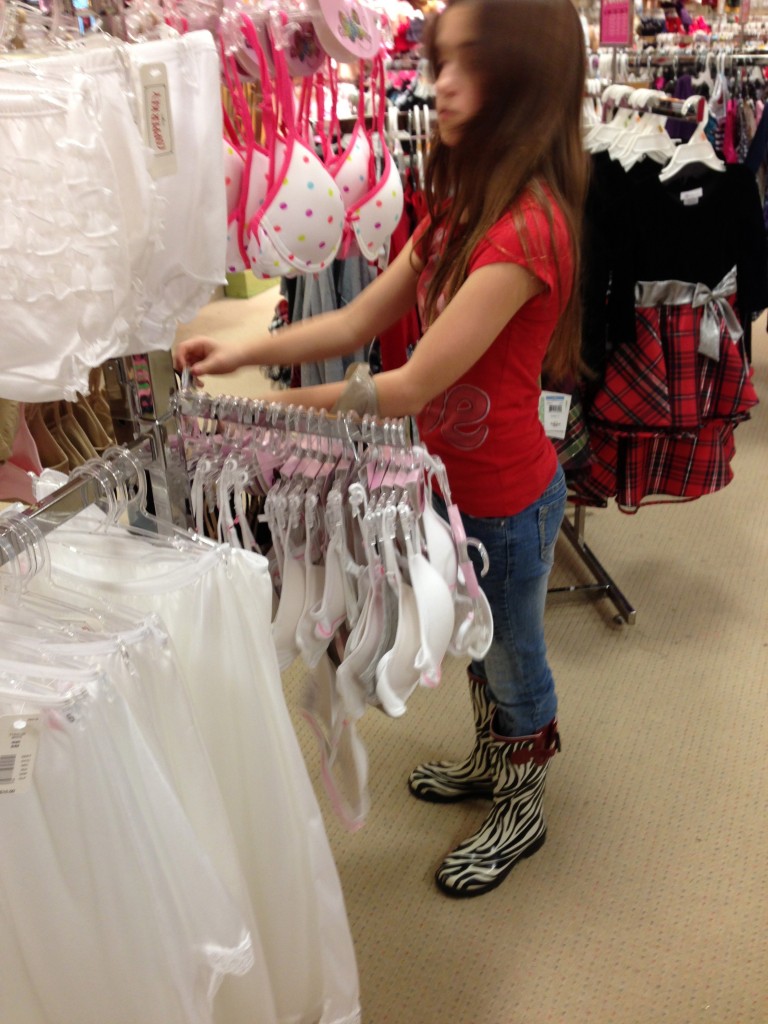 She searched high and low but the ever-elusive leopard print bra was not to be found.
After a few more stops, we decided it was time to start the drive back home.
Somewhere in this expedition, dad had joined us because his office was close to the mall. Daughter opted to ride home with him.
As we parted ways, she made me promise to look in another department store – for the leopard bra.
I did and found a bra with peace signs. Peace signs really aren't animal.
So unbelievably, I sent her a photo of the bra to see if she liked it.
All the while thinking, I'm texting my 11 year old pictures of bras.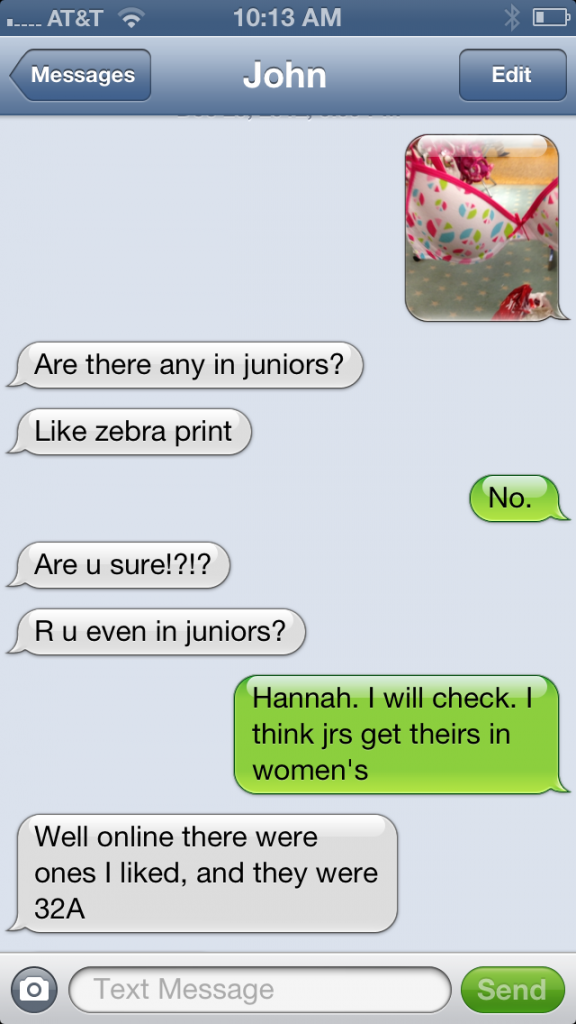 I did go look in Juniors and then decided try a run through the Women's lingerie department.
Riding up the escalator to the Women's depart surrounded by the twinkling lights and golden balls, I considered how fun it would be to see her face on Christmas morning. That I had indeed found the 32A zebra print bra.
As I started looking through the stacks of busty, frilly brassieres all meant to push, pump and pour mammary flesh
that is where I STOPPED.
This is insane.
What's next year? A bitty portable stripper pole to fit in her stocking?
I can hear her now. It's just about exercise, Mama. You should be in favor of that.

Someone has to put the brakes on this child and it might as well be her mother.
A mother who three days ago painted her toenails in alternating red and green.
My daughter should be painting her toenails in alternating Christmas colors, not worrying about animal print underwear.
For now, I think this issue is on her back burner. But like my friend Barbara advised, "Just wait till she asks for the thongs."
What do you think about this? Am I getting worked up about nothing?