Upon waking Tuesday morning I didn't check Twitter first thing.
Or second thing. Or even the third. For as long as I didn't check Twitter, I couldn't read confirmation of what probably happened during the night.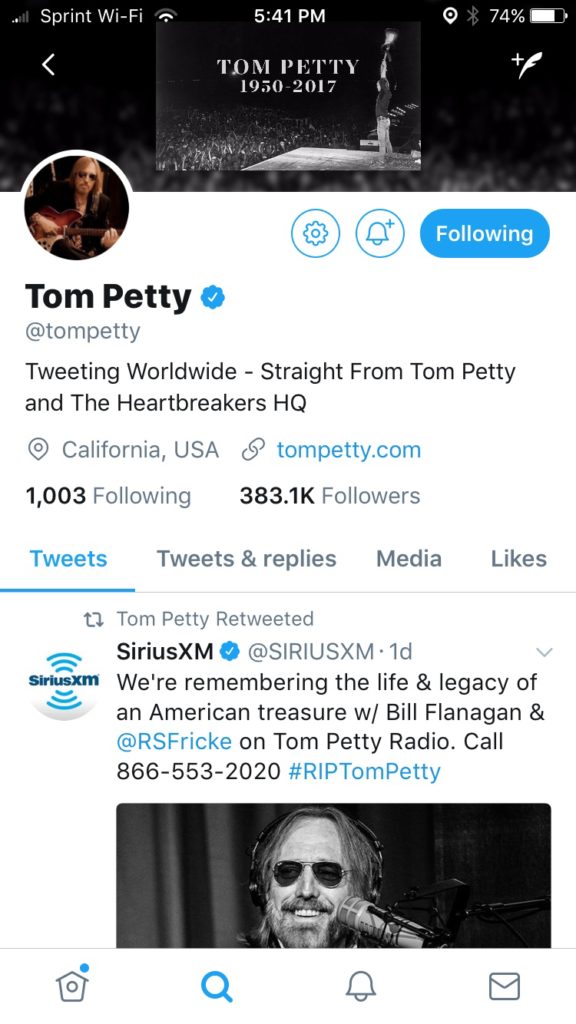 Late yesterday in the waning moments of a power yoga class, I lay on my mat staring up at ceiling tiles. In unison left legs extended, right knees crossed over torsos and reached to the floor. My mind wandered. Till a familiar melody and twanging electric chords lassoed my thoughts.
Sounds like Mary Jane's Last Dance. Yes. Definitely the opening to Mary Jane.
Surely it's a cover. Don't all yoga instructors pull up interesting covers of popular songs to show a vast knowledge in the diversity of music out there? Culling playlists from vocalists trying their darndest to bring something different to the original.
Then the unexpected happened.
Tom Petty's voice.
She grew up in an Indiana town . . .
There on the mat staring up at ceiling tiles, I cried.
So stupid. I tried to rationalize the lump of emotion stuck in my throat and tears rimming my eyes set to drain down my face.
After all I was tired. All day I'd squished down the horrible, horrific news from Las Vegas. Then my children and some recent decisions kicking at my gut.
But in the end I couldn't deny the trigger for my raw sadness. The death of Tom Petty.
Growing up in Central Florida, he started playing the bars around the University of Florida. I guess that's why as a girl, I decided he was special.
But the driving energy of his guitar and the honesty of his writing swamped me for life.
American Girl.
Running Down a Dream.
Running Down a Dream that never would come to me, working on a mystery, going wherever it leads. The urgency. I got it. When I was young, newly married. A law school graduate who couldn't bare the thought of practicing law.
I get it now. Juggling life and trying to pull together 80,000 words in a story that people would want to invest 10 hours of their life. Running toward dreams that might never happen, but all that running leads somewhere. Just what to do with that somewhere?
He painted pictures of women I thought about.
Hey little freak with the lunch pail purse, underneath the paint your just a little girl. 
And when I'm cleaning house . . . Don't do me like that. Don't do me like that. Baby, baby, baby. DON'T. DON'T. DON'T.  Yelling along with the don'ts made things better.
You're jammin' me, you're jammin' me. Quit jammin' me. You can keep me painted in a corner. You can walk away, but it's not over.
The lovely Wildflowers.
I'll stop.
Such a complex person. One who wrote, played and sang about the simple complexities of life.
One who could rock a mad hatter top hat and glasses like nobody else on the planet.
You've left us here still running down those dreams.
That never will come to me.
Working on a mystery.
Albeit with a killer soundtrack.
Thank you. Forever.