Plant them and they will grow.

Reseed and they will grow. Some will grow.
Spend $20 on seed and six weeks later end up with 10 flowers.
My sunflowers almost got the best of me this year, as I showed in this silly vlog for the Ten Things of Thankful group.
Something kept eating them. Their little heads would pop up and be whittled away by wee bugs overnight.
Then to realize they had bug spittle all over them.
It was almost too much.
But this past week, my persistence paid its dividend.
Yellow petals finally withdrew from those shy brown and yellow faces.
Ten Things of Thankful that I persevered with my sunflowers.
10.   Every time I pull in my driveway I smile.
9.   Bees.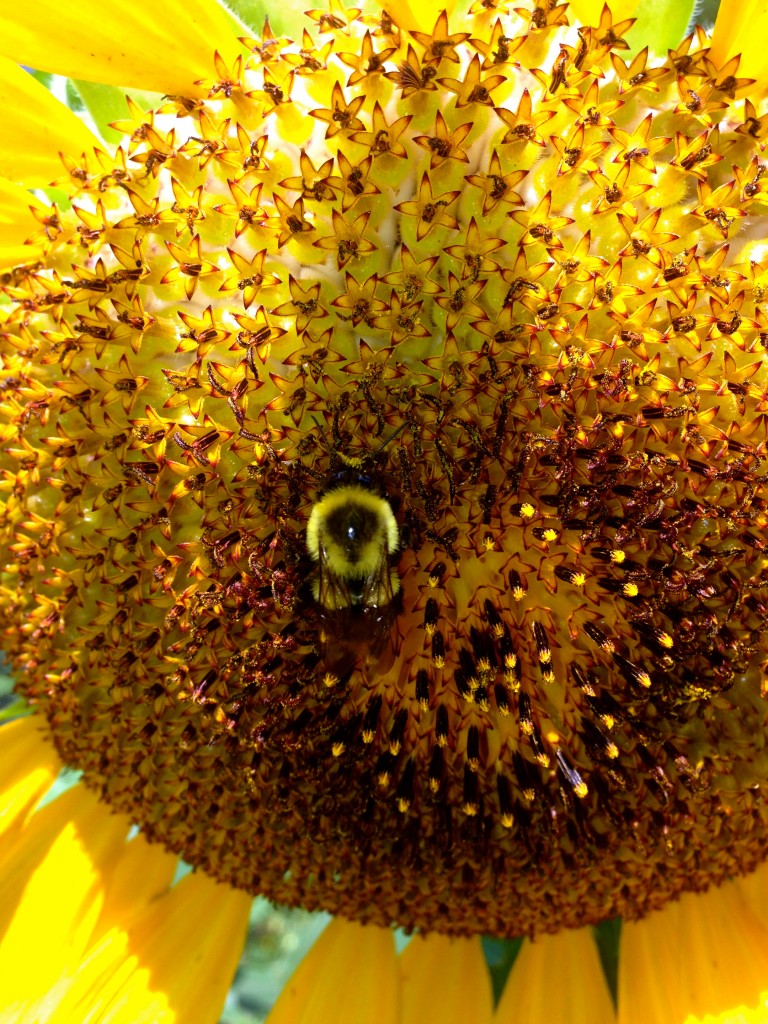 It's one thing to write about bees. Entirely another to watch them in action. Every time I look, every head has at least one bee working away.
Single-minded focus.
8. Yellow.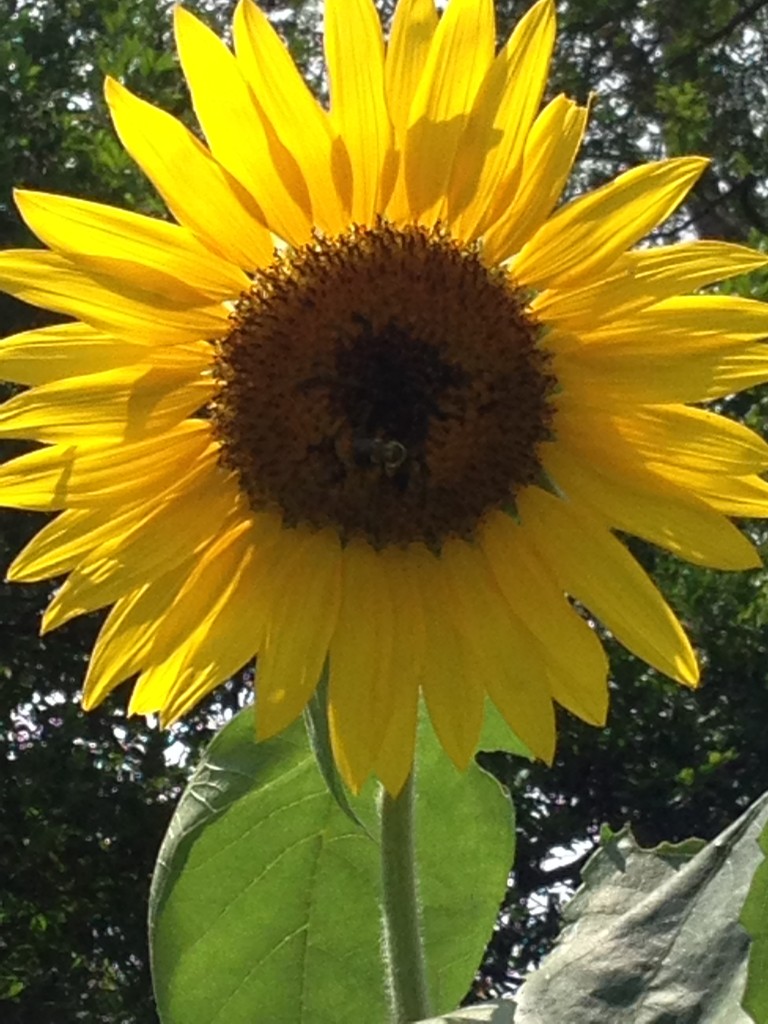 See the bee. See the yellow. See the bee buzz in the yellow.
How can you feel sad staring at this color?
(Although living in a room of it for 48 hours might have me tearing out my toenails with my incisors.)
7.   Tall.
Once you get the babies past the critical stage, they tower over me. And I'm tall.
A fact that I hated in seventh grade. Sunflowers have incredibly posture.
6.  They greet the sun every morning.
As heliotropes, their heads tilt upward and swivel all day following the sun.
Each dawn they face east, waiting expectantly for the light.
5.  They just do their thang.
Sunflowers are content. Glorious in their own imperfections.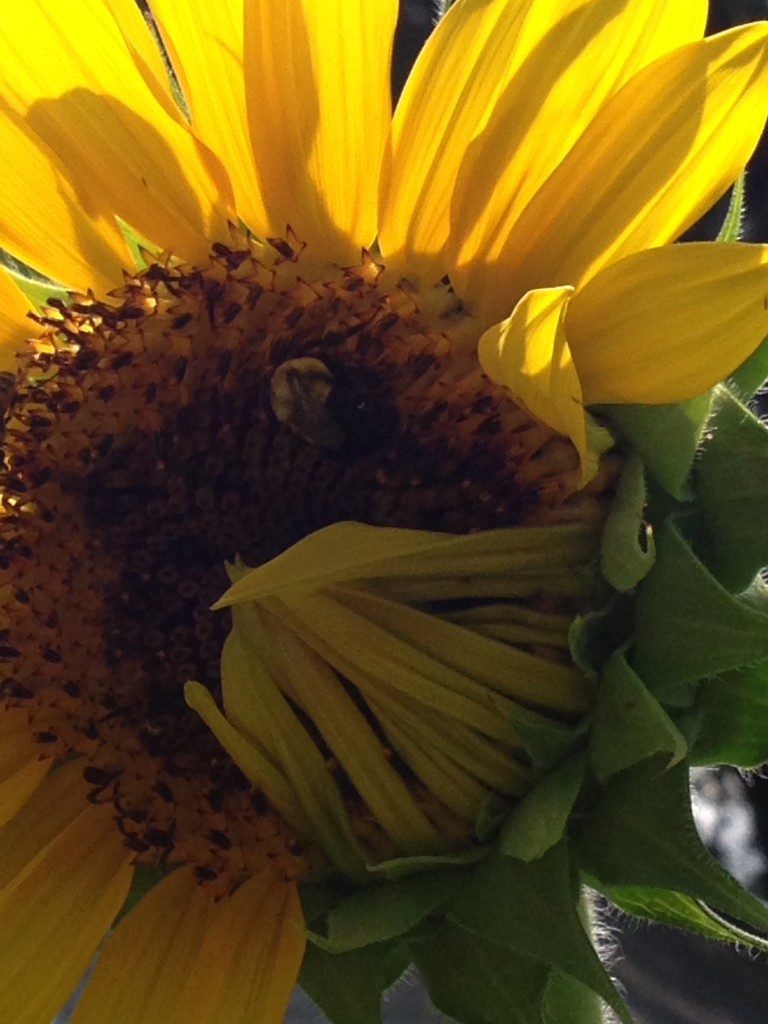 4.   They relax and let others do their job.
The rains beat them down. Then once the sun is out, they straighten up best they can. Spewing forth pollen, they allow their estheticians — the bees —  to work away.
3.   Heads grow heavy and backs bend. Elegantly.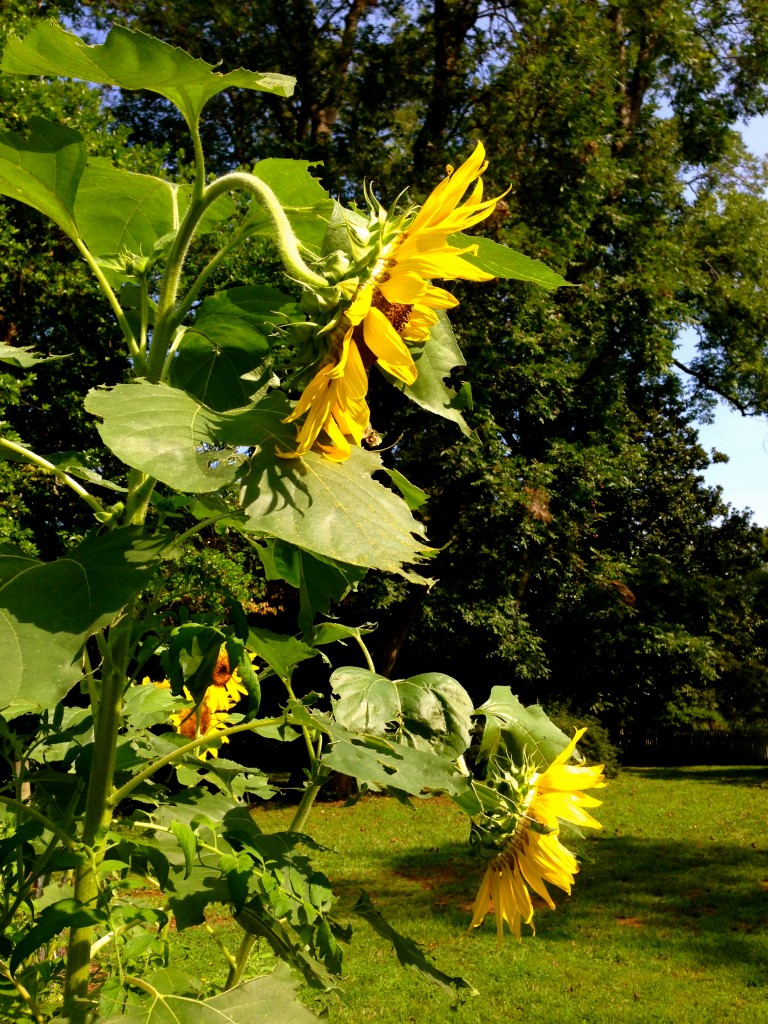 2.  Time takes it's toll.
It may only be a few days, not 50 years — but rain, those darned bees, bugs ripping their leaves into Swiss cheese, leave their mark.  Just a few weeks after blooming, those radiant heads look like hell.
1.   It holds fruit. Tons of fruit.
Shhh. Don't tell them. But in a week or so, their heads packed with seeds will hang low facing the ground. The stalks once so green will turn as a tobacco leaf ready for rolling into a cigar.
Age does get us all.
The sunflower matures without a compliant.
Acquiesces to the ravages of time with a gentle bow.
Not I.
Pooh.
Linking up with . . .