If you live in Morgan County, if you live anywhere remotely near Morgan County —
You don't want to miss this.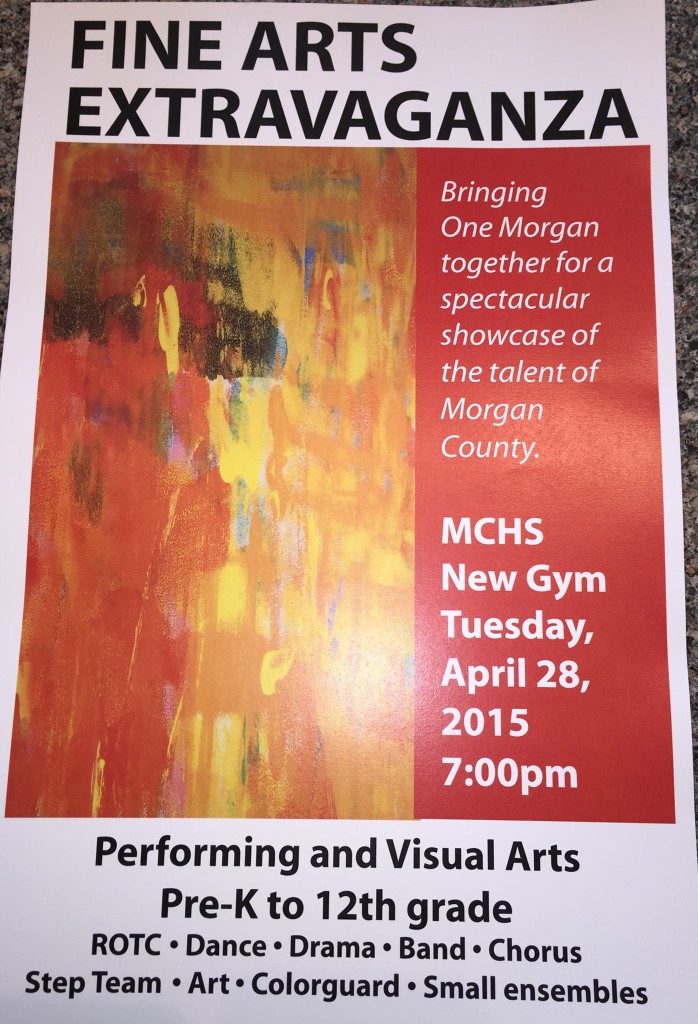 Tuesday night, April 28 at 7 p.m. the MCHS gym will be transformed into a theatrical venue for a Patriotic Fine Arts Extravaganza featuring over 600 Morgan County students grades PreK – 12.
Karisa Seymour, Morgan County Middle School Band Director, came up with the ambitious idea after seeing a event by an Avon, Indiana student fine arts program. "This performance has been in the works for over a year," said Seymour. "It's designed to showcase the outstanding work being taught every day in the four Morgan County schools."
The patriotic Extravaganza will feature Pre-K through 12th grade performances including: Middle and High School Bands, Chorus, Dance, Drama, Art, R.O.T.C. and Color Guard. Special lighting and sound will transform the gym into a theatrical venue. A prism performance allows for seamless transitions without waiting for performer or set changes. One act flows into the next with entertainment positioned around the venue. A dramatic monologue might follow a swinging jazz quartet, which leads into lyrical dance. Student art banners will serve as backdrops enhancing the red, white and blue theme.
The high caliber of the system wide fine art instruction and programming not only enriches student life, it brings recognition to the schools and profits the community as a whole. MCMS Art Teacher Marjean Meadow pointed out that many Morgan County students go on to fine arts studies at the collegiate level earning degrees in all areas of: theater, dance, music, graphic and studio arts, voice, art education and architecture — just to name a few. As for long-reaching effects of the Extravaganza, Seymour hopes a dreamed-for performing art center would come a little closer to reality. "Having a state-of-the-art performing arts center would not only benefit the student population, it would allow us to bring in other quality performing and visual arts for the entire community."
See you there!
Okay, maybe I won't actually see you there because there are gonna be a TON of folks.
Get there early. Not like 6 a.m. early, but you can figure it out.