What school isn't hungry for great ideas for a fundraiser? Wrapping paper, candy, candles.
As a girl, one year I went door-to-door selling scented candles. Each time someone would buy one, I was like God bless you. Now I like scented candles as much as the next person — but frosted glass and pictures of sad-eyed puppy dogs? Guess you can never have enough of those.
Breaking ground and new vistas for fundraising, our local elementary school holds a 5K the weekend before Halloween. The Trick or Trot 5K and Fun Run.
They make a huge profit and create a fun family event for the community.
This year's race was last Saturday.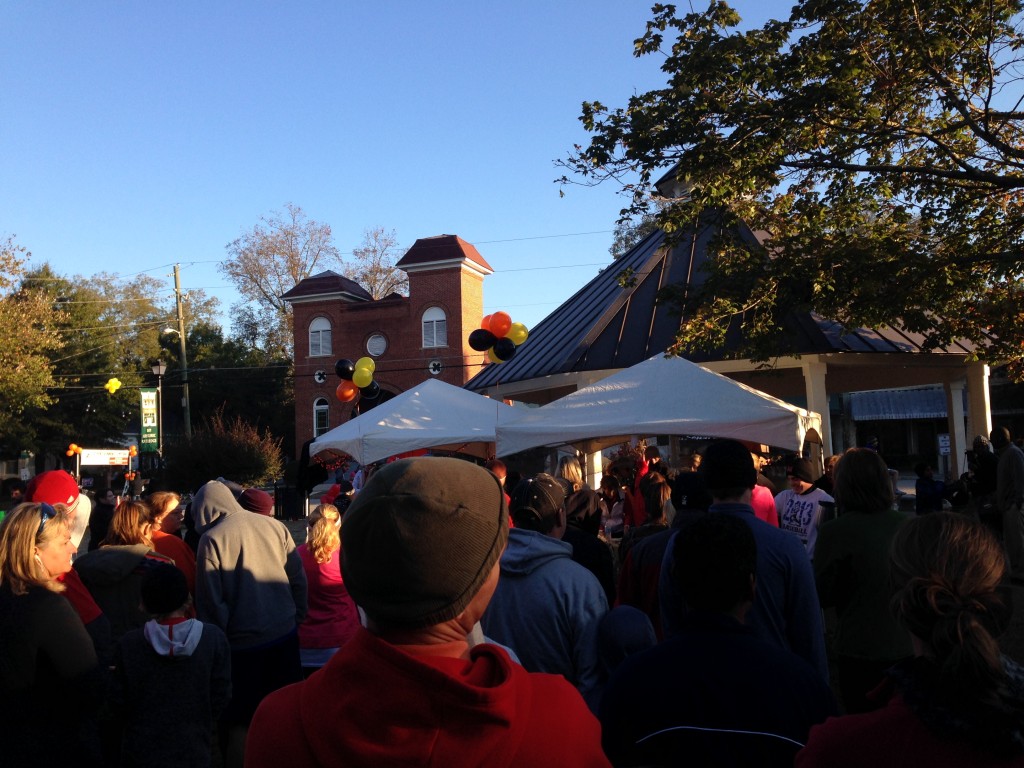 You can tell by the photos that it was cold. Cold for us Georgia folks away.
It was a beautiful day. As any runner knows, standing around in the cold before a race might not be the most pleasant but cold temps make running the race all the better.
Trick or Trot co-organizer Stephanie Keener said that there were 455 race registrants for both one mile Fun Run and 5K.
That's a great turn out for any local 5K.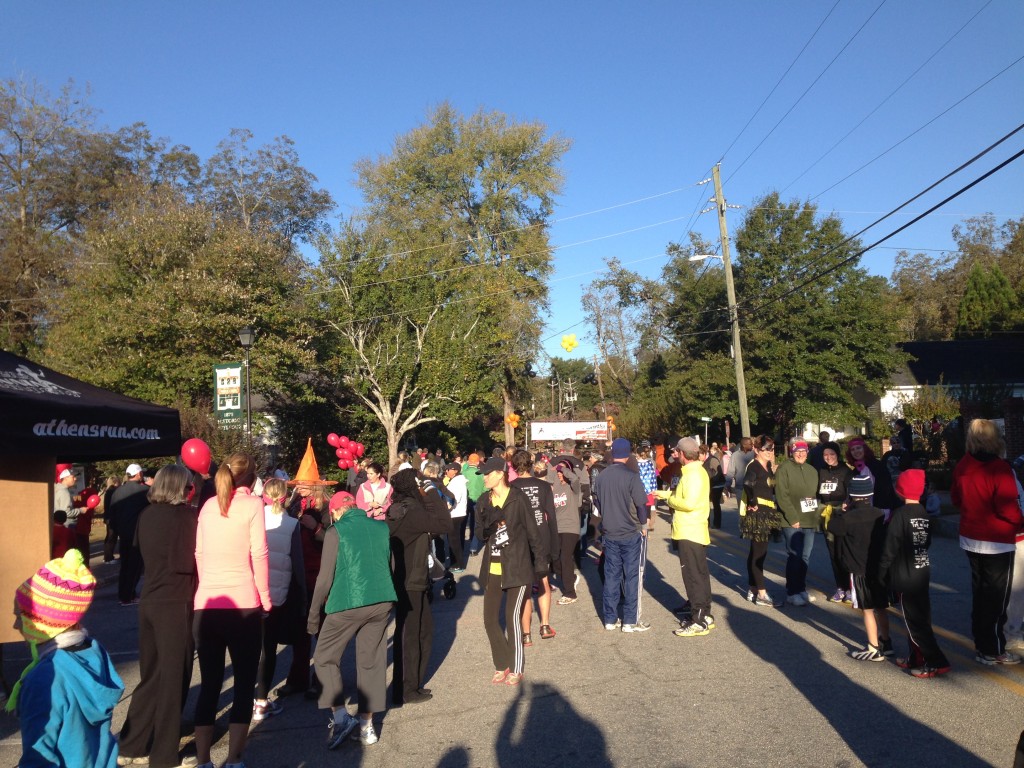 Though the Fun Run wasn't timed, the majority of attendees participated in the mile race. Adults and children running, walking or skipping the distance.
Keener said that 169 folks completed the 5K.
Here's a list of the top 11 Over all finishers.  I went all the way to number 11 to include the lovely Elizabeth Branch who was top finisher for the women. Woo.
1.    Zach Massey
2.    Alex Branch
3.    Jeremy Craft
4.    Jordan Hilsman
5.   Kingsley Sitzmann
6.   Dennis Sitzmann
7.    Rodney Whitacker
8.   Juan Rangel
9.   Thomas Hume
10. Jim Branch
11.  Elizabeth Branch
Below are the children of number 10 and number 11. So very cute and so very fast.
Like mom and dad.
My son and I were signed up to run the 5K. As I stumbled to the coffee pot in the dark last Saturday, my mind was telling me to do the Fun Run because other than PE and rec league football, my 9 year old had not run any distance.
I discussed this with him and he agreed to the one mile.
We dressed. Bundled up in the car and headed to Rutledge where the race started.
As the car bumped over the train tracks out of town my son said, "Mom. I really want to run the 5K."
I explained again how I didn't think he was trained. Code for — you will have a meltdown half way through.
"Mom. I want to have a sense of accomplishment today, then wake up for my birthday tomorrow."
What's a mom to say to that?
Participating in an organized event and crossing the finish line is all about accomplishing something.
Never be discouraged — no matter your place. Everyone who completed the distance finished ahead of everyone who stayed in bed.
My son and I started the three miles and all was great till .87 miles when he asked if we were almost done.
That's when I started pointing out the cows.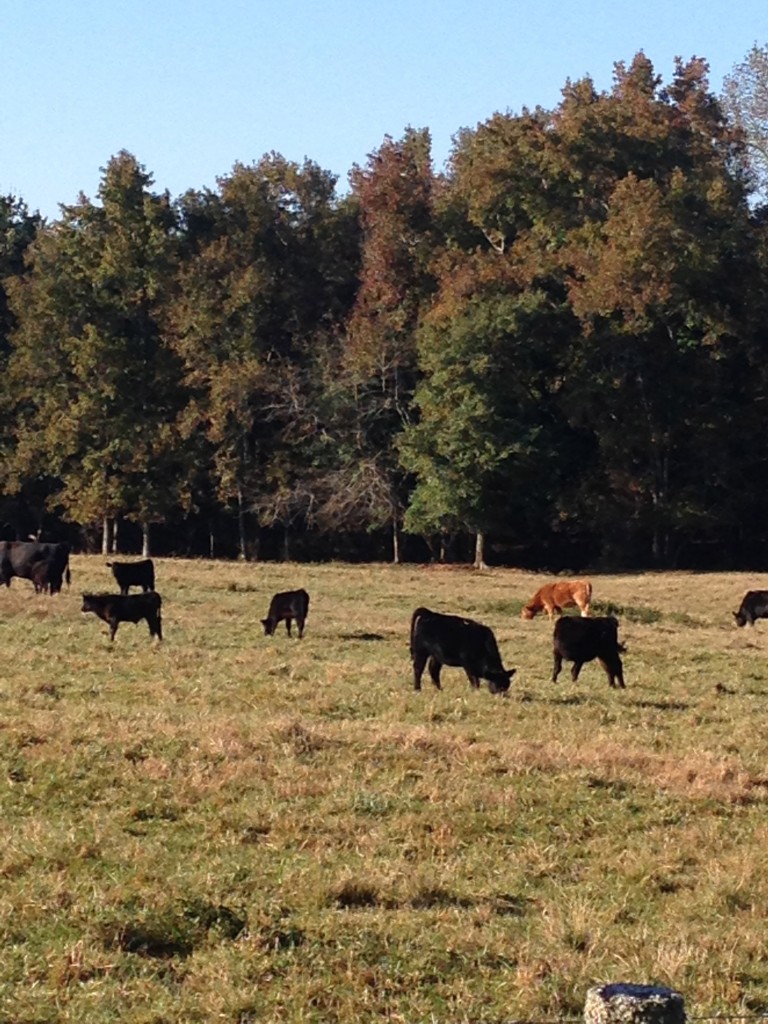 We got the to the turn around and I needed motivation for a nine year old who wanted to accomplish something.
But had forgotten that fact.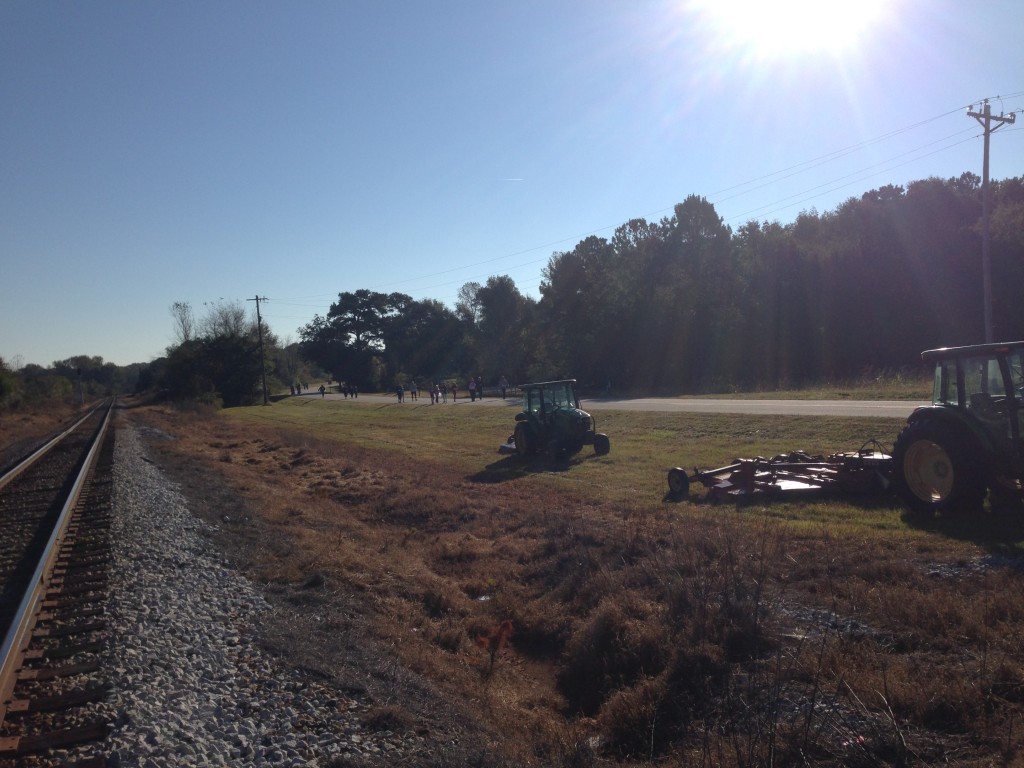 I reached in my sweatshirt pocket and felt some rolled up bills. Change from a twenty I broke earlier in the week.
As we walked along the asphalt, I pulled out the roll. "I will give you this money — no matter how much it is — if you finish without complaining."
148.    Joe Miles,     48:37.7
149.    Jamie Miles  48:43.1
Keener said that she and her co-chair Kristi Fridell, worked great together in months of preparation before the big day.
"It was a lot of fun. A lot of hard work — but we were a great team."
How much did the Trick or Trot raise for the school?
Are you ready?
The profit was over $11,000.
That's a lot of wrapping paper.
Thanks so much to two very talented ladies.
Have you ever run — walked — a 5K with a child?  Bribery or no.
Linking up with the fabulous Greta@gfunkieds and Sarah@sundayspill for #iPPP.