For truly I say to you, if you have faith like a grain of mustard seed, you will say to this mountain,
'Move from here to there', and it will move,  . . .  Matthew 17: 20
Most of the week, I gazed upon this: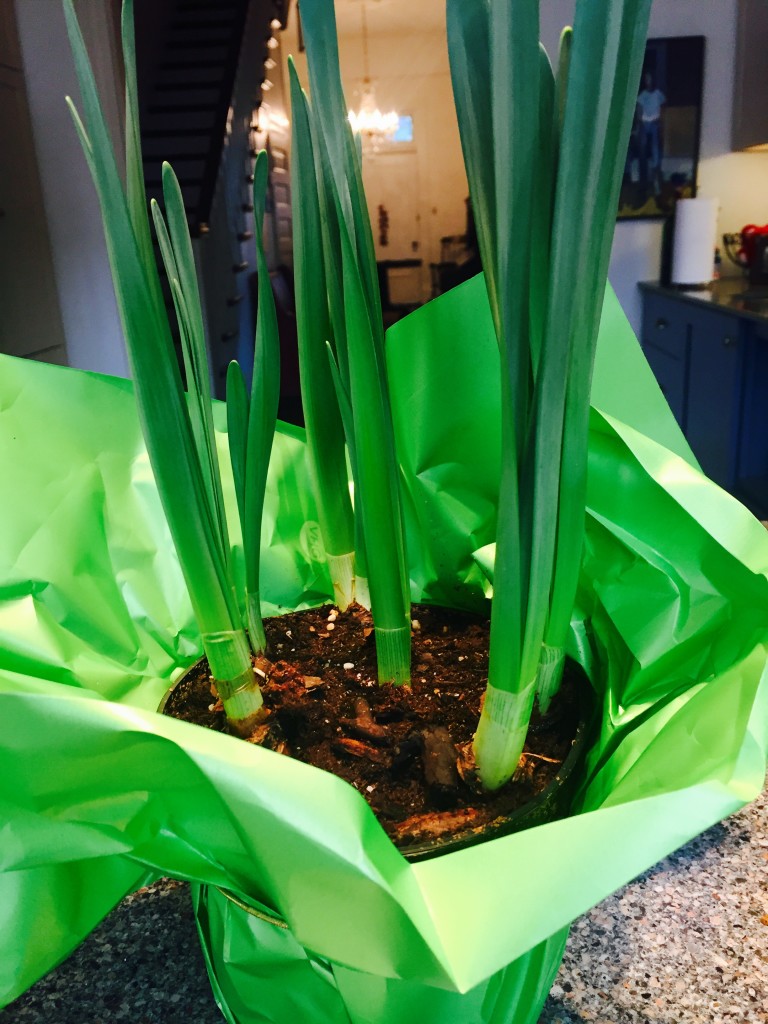 Nice.
Green, promise of spring kind of stuff.
About Thursday, I looked upon its puerile beauty and thought I haven't seen any blooms yet. Nothing that even sniffs of a green shoot that could morph into a bud.
Suddenly I questioned everything I knew about the natural world. What if all chickens stopped laying eggs? What if the sun didn't rise tomorrow? What if my skin started growing younger instead of insisting on well — aging? Which would totally be sooo very great.
Why on earth did I pick the one plant with nary a bloom so sure that bud will sprout and open into a hopefilled bouquet of tulips?
Why was I certain they were tulips? They could be daffodils just by looking at the leaves. Sure I selected this pot from a group of pots with blooming tulips but?
Why do I assume so much?
For instance, take this spot of dirt in my garden.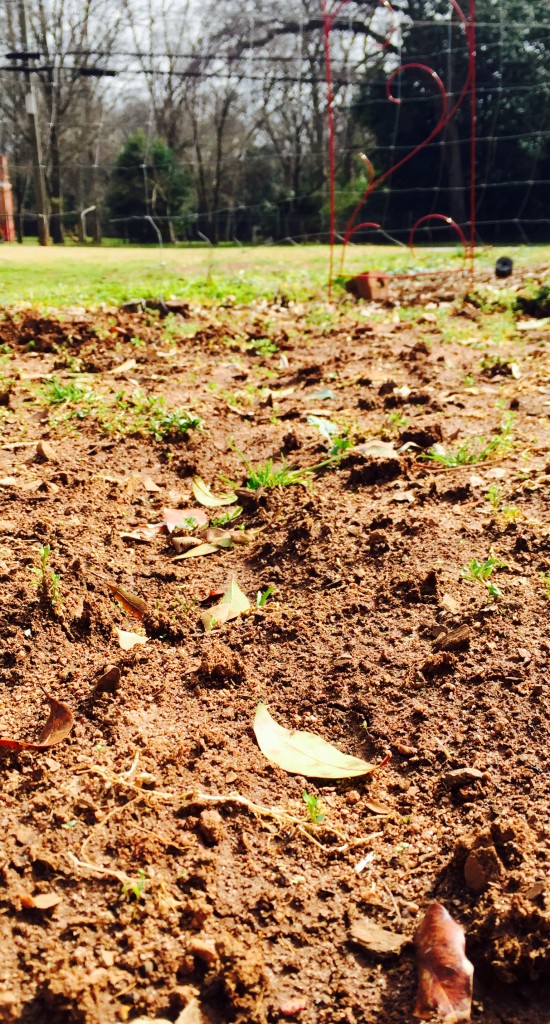 About a month ago on impulse, I purchased two inexpensive packets of seeds, Spinach and Mustard Green, while at the store.
Once out in my plot, the soil gave away easily as I created a deep row with nothing more than a few drags of a pick axe.
I dropped in the seeds, covered them up and thought with all this rain and a few warm days, who knows I might have spinach by March?
Well, we've had nothing but rain and cold so as that photo attests the dirt looks pretty much the same as it did a month ago.
Every day as I pass my little plot, my eyes search for the spot. Knowing one day I see clusters of teensy greens.
Why am I so sure that when the temperatures rise so will my seeds?
WHY?
Maybe the question is why did I buy that pot of tulip shoots or take the trouble to scatter those bitty seeds in the first place?
That's easy peasy. A longing for the beauty of spring. The promise of fresh spinach with my eggs in the morning. Knowing that though outside the window gray abounds, life is there.
The expectation of faith fullfilled is a huge part of who we are. Who I am, I guess.
Here's to a week of tulips blooming, spinach sprouting and no shadows for groundhogs.
Thoughts?
Editor's note: Last week's novel perservering resulted in an average of 785 words for six work days.