God surely wouldn't mind if I missed church. Took a sick day, personal day even?
It's not like I didn't have a reason. Good friends visiting. Friends I didn't get to see very often.
A leisurely cup of coffee, laughter as we caught up on all that has been going on in our busy lives. Communing in the sunshine and not rushing to pews and hymns.
That's what I decided anyway.
"I'll just stay and wait for Ken and Tracy to get up," I whispered to my husband as he left for early church.
Walking back into the bedroom, our bed was a tangled mass of sheet and blankets. Off to the side, a leaning tower of dirty exercise wear and school clothes rudely beckoned.
The bed looked inviting but duty called. Gathering up some clothes, I headed to the kitchen to start a load of wash.
On my trek through the television room, I noticed my youngest enjoying his reprieve from Sunday School. His face mesmerized by a laptop screen. Fingers furiously controlling the destiny of his Minecraft universe.
Throwing the clothes in on top of earlier deposited items, I poured the soap. Turned the knob to NORMAL. Hit start and headed to my room.
Nestling back into the sheets, I pulled my computer onto my lap. Nice. But something was missing. Coffee.
So I went to the kitchen to pour me a cup.
Mew. Mew. Just the faintest of mews.
Trotted back to bed with my coffee, all the while the little mew kept mewing.
"Joe. Do you have a cat in your Minecraft world?"
"No. I have a dog."
Mew.
Once again my fingers clicked away on the laptop. Mew.
Ugh. Cats. Could one be trapped in the attic? In a drawer? I got up and looked at my son's game. Nope. No cat.
Mew.
Clunk, clunk. Clunk, clunk. I heard the washer rattle on. That's funny. I didn't remember putting any tennis shoes in the wash.
DEAR GOD.
I ran to the washer and looked in the clear plastic portal. A cat peered back at me. Tossing and turning. Soaked. Traumatized beyond recognition.
My stomach dropped to my toes and my fingers flew to the cancel button.
Frantically opening the door, I reached in a pulled out the drenched creature. His black fur matted down looking as if he was a poor sea cat freed from a slick of crude.
Oreo tumbled onto the floor weaving back and forth as he tried to move. By appearances, he would surely have failed a kitty sobriety test.
Calling for my daughter, I spilled the whole sorted tale. She screamed in horror and ran to fetch a towel to gather up her big sopping wet baby.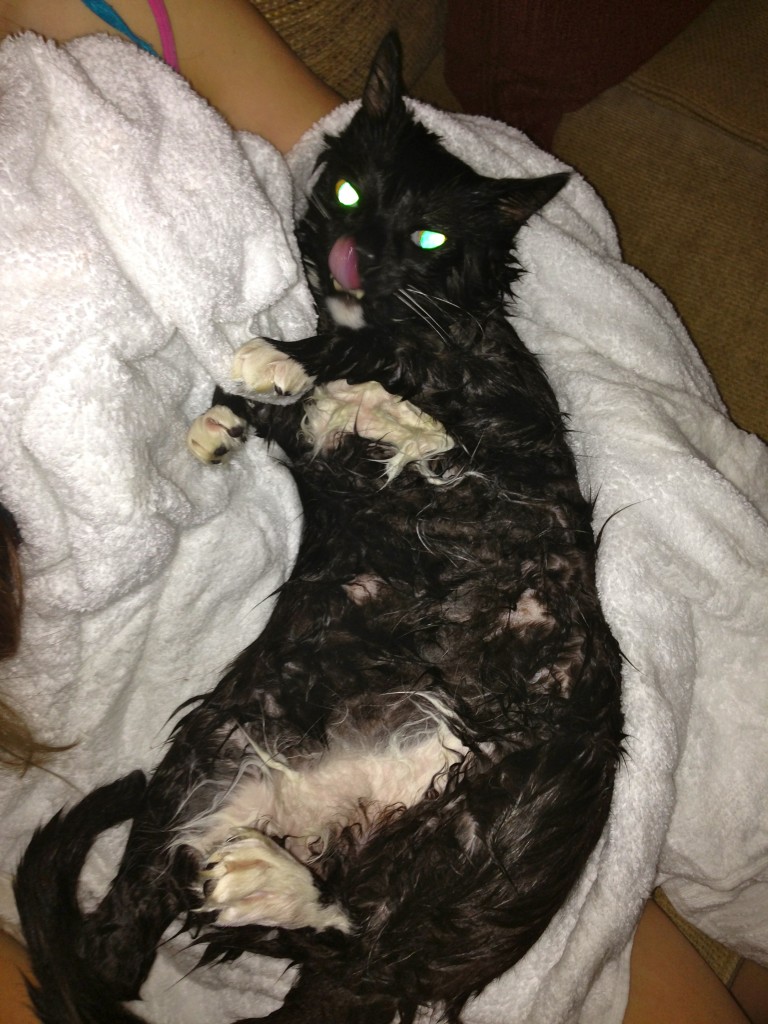 The big lump of drenched critter didn't move for 30 minutes.
She then carried the wet bundle to her bed.
Throughout the day, I crept into check on him like I did when my children were infants. Was his little chest still moving up and down?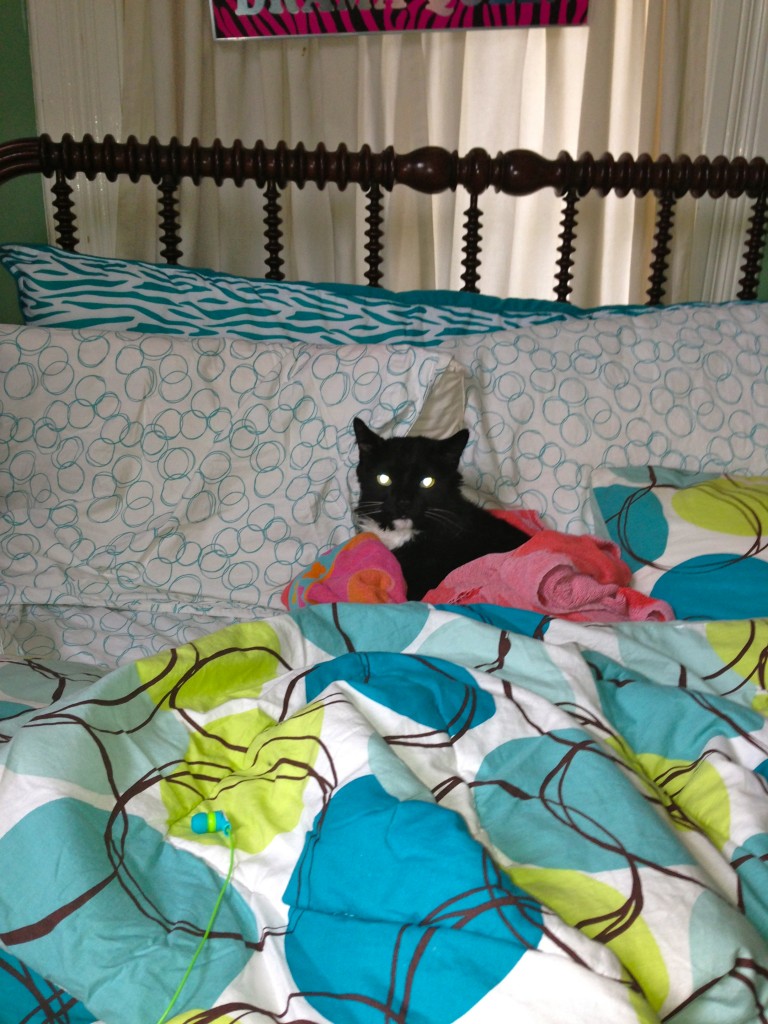 Yep.
I shutter to think what would have happened if I had thrown the clothes in, started the machine and rushed to church.
Cats have nine lives but it would have taken all of them plus nine more to have survived the spin cycle.
Yes, thank God I skipped church that day.
Like the old hymn says, "His eye is on the sparrow and I know he watches over me — and my pets. Whom I might accidentally try to kill."
Have you ever washed a pet? By mistake?