Spring Training.
Where Major League baseball teams head to warm places like Florida and Arizona to warm up their baseball skills for a month before the season starts.
When I was growing up the Minnesota Twins trained in Orlando.
Dad and I went there lots.
If  great team like the Red Sox or Yankees came to town on a weekday — Dad would get me out of school. HURRAH!
You never knew who of the big names they would bring. I remember one day when the Red Sox came and they brought everyone. Yaz, Fisk, Jim Rice and on and on.
It was like my own little Christmas miracle in mid-March.
Our seats were in row B right behind the visiting teams owner's box. All the big coaches — Zimmer, Lasorda and Billy Martin would stand about five feet from us and respectively chew-the-fat with their boss.
I graduated high school in 1981. Any rooster from the late 70s to early 80s I know. I'm stuck in a baseball time warp.
Today at the game, we sat with a woman who grew up in Cincinnati.  Bench, Rose, Joe Morgan. She stumbled on the SS. It took me a second then "Concepcion" came to me. Foster was in the out field.
But name a player who was out on that field today, with the Rays verses the Orioles?
To me Weaver is still the manager, Eddie Murray, Ken Singleton. Ugh.
Trapped.
Now I did recognize the Rays franchise carrying shoulders of Longoria. Only because I am convinced he is related to some Hollywood personality.
I took lots of great photos today of him and the whole darn spectacle, but my Mac and my cheap photo chip aren't on speaking terms so I can't download any great pics.
Yes, this was my first Spring Training game since driving to Lakeland with some law school friends to see the Detroit Tigers  at least 25 years ago.
But I started to remember why I loved it so.  It was warm. I had a beer. I looked at lots of people. I watched a few plays.
Coming back from a pottybreak, I saw this big bird holding a toddler for a picture. I thought how adorable and got my phone out to take a photo of the mom taking a photo of her child with the O-bird — then I thought, darn it.
I need my photo with the darn Oriole.
So I tossed my phone to my sister in the stands.
If this was regular season baseball, I'd go a heck of a lot more.
I might even know the roster of a team. One that was not stuck in 1985.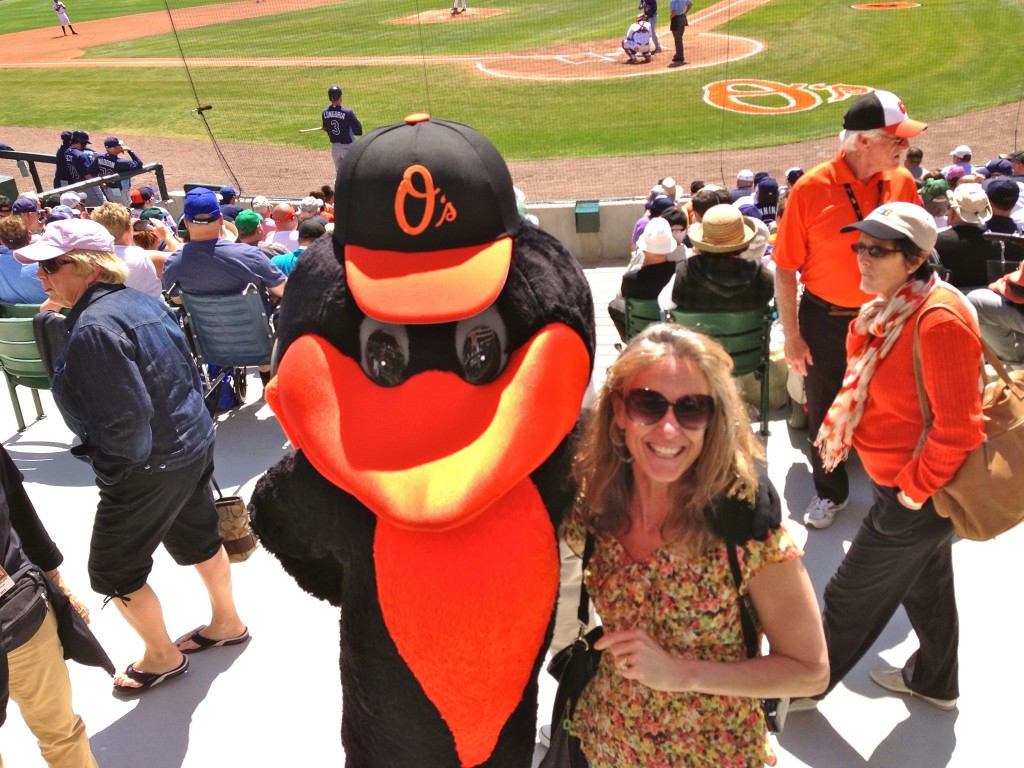 What about you? Would you have grabbed the bird?