My neighbor  — artist, Etsy entrepreneur and bloggette, Trish Jones and I used to walk in the dead black of morning.
This was a long, long time ago in a galaxy far, far away. Long before we both had blogs.
Before blogs I think we (women as a group) talked with each other and discussed life one-on-one, not worldwide.
I remember a point one morning when I blurted out,
"By this age, I thought I'd have a nice house, with nice things and now I'm starting to realize if it hadn't happened by now — it's not going to happen."
Insert the strains of violin and a little quiver in my voice.
Trish said something similar, but if you look through her blog, her natural decorating talent has burst forth in the intervening years and she is creating that house.
*            *            *
As for me, I have in approximately nine years since that comment, come upon metal baskets that sit on my dining room table that I cleverly switch out seasonal decorations.
Here was what I came up with for this summer.
The other day I was trying to switch out my shells for something more fall.
This happened.
A few years ago…this would have made me cry and moan and wring my pre-muscle bound knuckles over how I never can or never will have ANYTHING.
I can't worry about that stuff anymore.
Enough time has passed that I realize how fast time passes.
I can't worry that my mother will never understand why I can't get the house together and can't throw coffees.
One baby is a senior. My 10-year-old daughter is texting who knows who and my eight year old will be my third child in braces as of tomorrow.
Waterford breaks. It's nice if it can be passed down to another generation, but really?
Lots you care about coffees and Waterford crystal. Tradition does matter.
This is not a thumbing of my nose to white linens and Windsor chairs.
I just don't lust after 300-year-old highboys anymore.  Not that I can't admire an aristocratic long-legged fellow leaning against a neighbor's wall.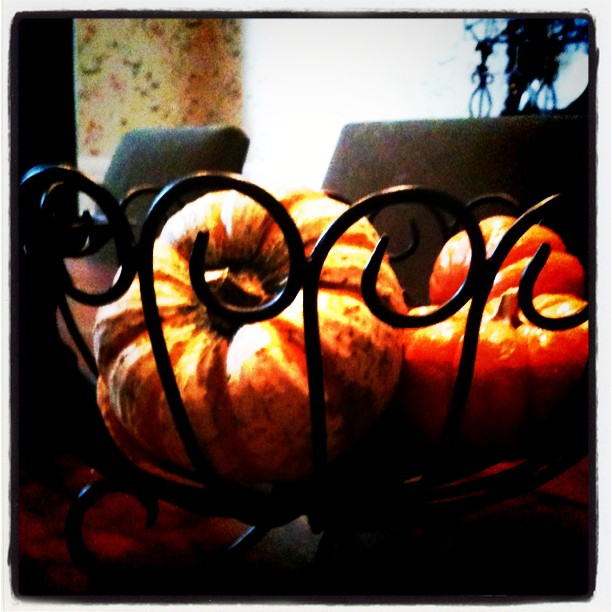 I'm just more a gourd and metal basket kind of girl.
Have you ever broken anything that devastated you? (Obliterating a wedding gift does get to me.)