This isn't my first rodeo raising money for Ronald McDonald House Charities (RMHC), so you wouldn't expect a rookie mistake.
Wait. I'm getting ahead of myself.
Two years ago, my son Joe (then 11) and I joined TeamRMHC to raise money for the RMHC of Central Georgia. We trained for the RunDisney Princess Race Weekend with approximately 200 other runners from around the country. Joe and I ran the 10K on Saturday and I ran the half on Sunday. We raised $1,8oo for the RMHC in Macon. Here is our group at a meet-and-greet in 2015 at the Walt Disney World McDonald's, of course. The group raised over $165,000 to be used when families with children receiving care at Children's Hospital Navicent Health cannot afford the $15 per night fee.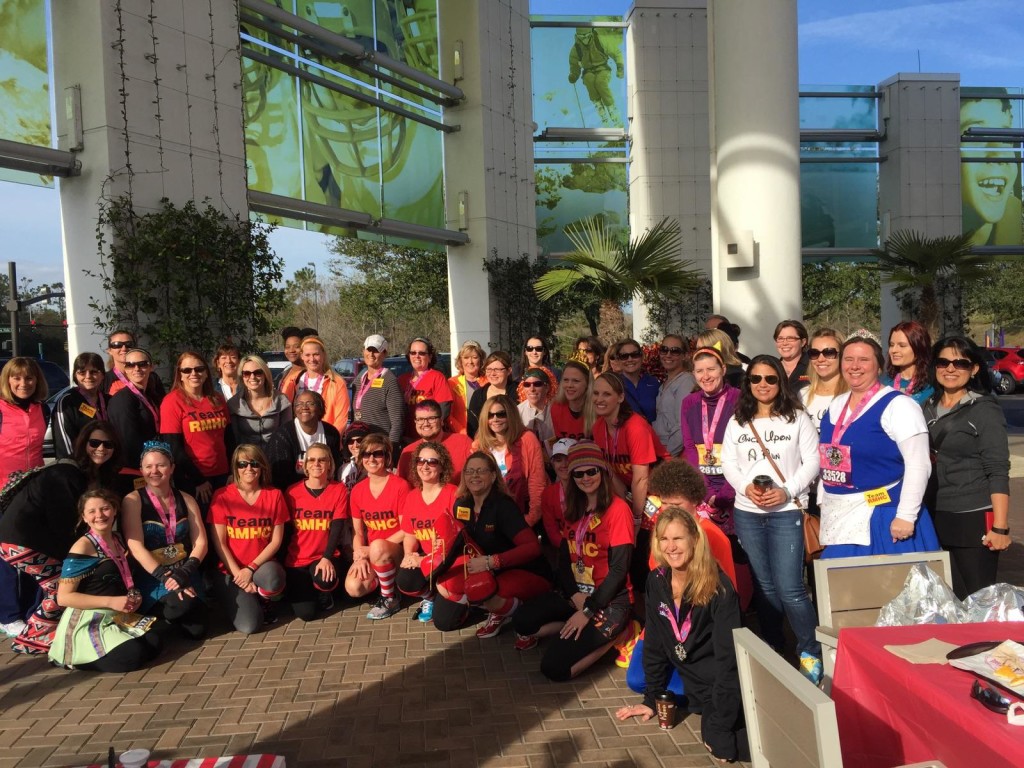 It was a lot of fun and a great experience. So when I received an email this July about joining again I asked Joe if he was up for it in 2017.
"I'll think about it," he replied.
Joe is my gamer. This would be a good way to get him outside as he prepared for 6.2 miles in February and hopefully reinforce the need to help out others experiencing tough times.
Have to say, I was a little surprised when Joe came to me a month later and said he's ready to run and fundraise. This time, we talked Dad into joining our Running Miles for RMHC team.
So back to how I started this post.
Having been a part of the 2015 team, I knew each team member needed to raise at least $750.
No problem, right?
Last time, one of our more successful efforts was a Lemonade and Sweet Tea stand. So, while it was still warm we planned the same on the one weekend in September we all were available. I dropped the tea and since a few batches of cookies last time were very popular — this year I made tons of them.
No matter that the Georgia game kicked-off at 12:30.
Build it and they will come.
Well, come showtime — our now 13 year old wasn't thrilled with standing out on the street, saying that last time kids at school said they had seen him.
~~~
Two years later, this is how the Lemonade Fundraiser went down.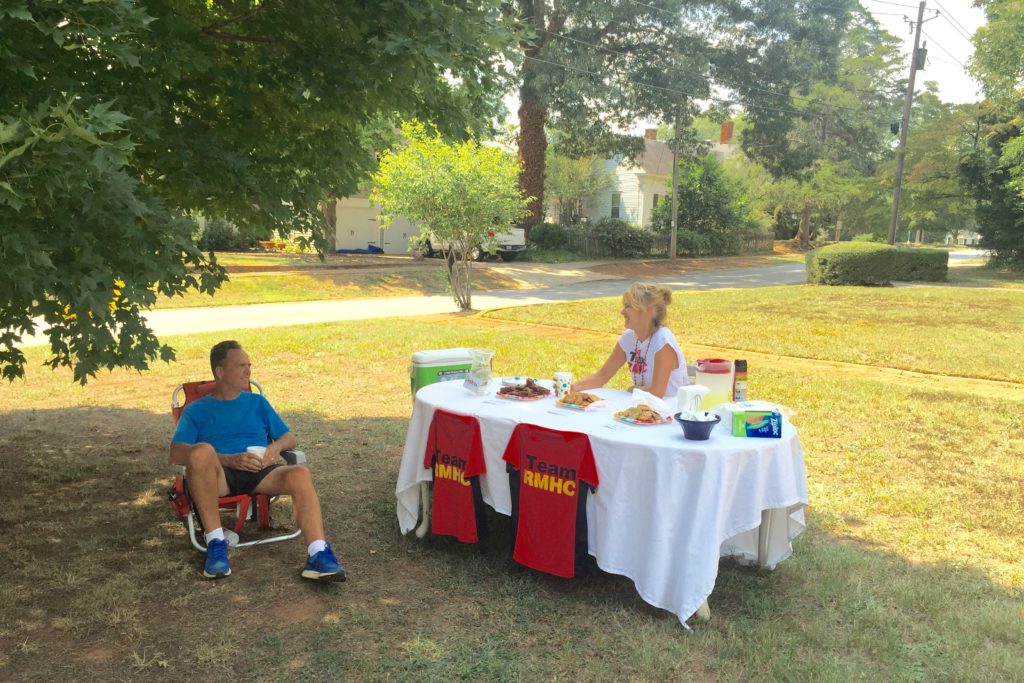 Give us a half a point for effort — but John and I agreed — something looks a little odd about grown-ups with a Lemonade stand. So whether it was the University of Georgia game or the creepy adults-asking-for-donations-with-cookies factor, business was slow.
Where's Rent-a-Kid when you need it?
I did the next best thing and texted my neighbor to ask if her son could help.
With a buddy by his side, the reluctant Running Miles for RMHC team member hit the streets.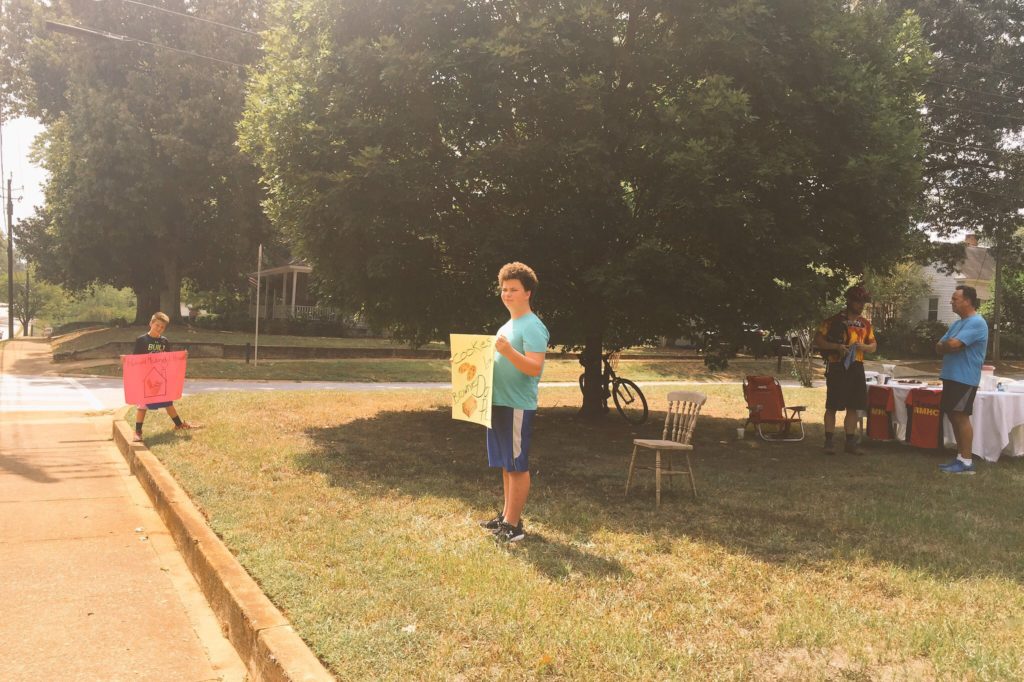 And what started as a trickle. Got a little less tricklely.
A few of our fabulous donating folks.
~~~
~~~
~~~
~~~
~~~
~~~
With the boys pulling them off the streets, and me clogging my Facebook feed with photos, and begging — it ended up being a very successful outing.
But we did have lots of cookies and brownies leftover.
So I bagged them up and team member Johnny Miles took them to his Sunday School class the next day, and his Tuesday morning Men's Bible Study.
Guess the total amount received for all those cookies.
Four hundred seventy dollars and seventy-eight cents — $470.78.
Do you believe it?
A huge success!
It sure didn't feel that way when I was doing my best Johnny Carson impression.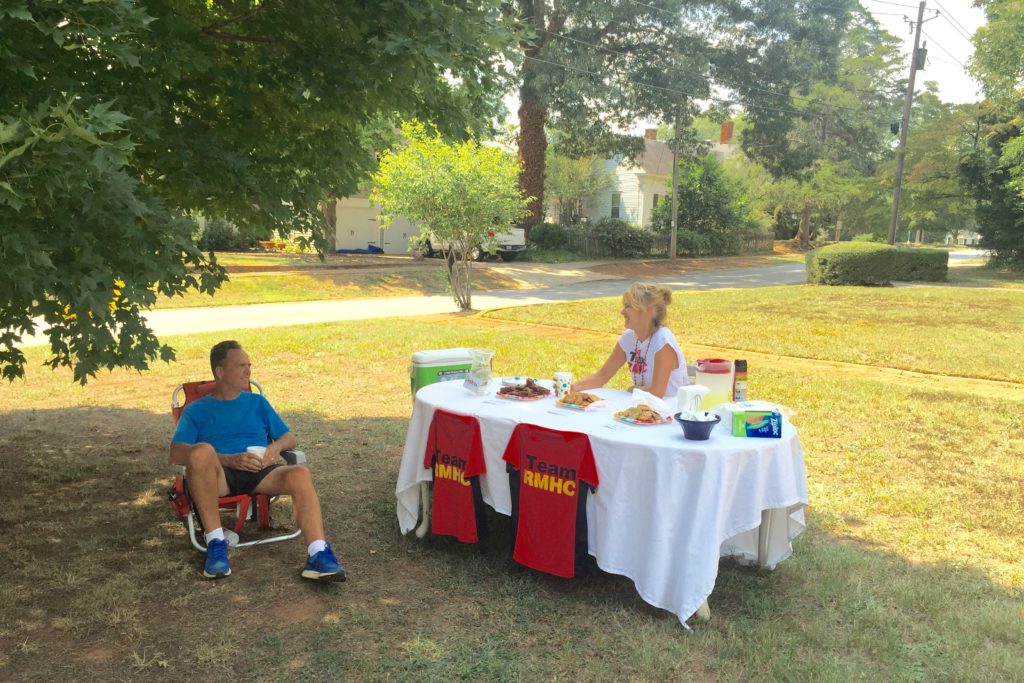 Johnny Carson. That's what I think when I see this photo. Maybe David Letterman. I'm not going to lie and say this photo makes me think Jimmy Kimmel or Jimmy Fallon. I'm old and remember staying up late when I should have been asleep and watching Johnny.
Too old to be sitting at a stand asking for donations, but where there's a will and a most excellent cause — the good Lord will provideth a generous Sunday School class and Men's Bible Study — as the way.
While John and I sat there watching the grass die, we talked about new money laundering raising strategies in light of the changing Miles RMHC team dynamic — two middle-aged adults and one soon-to-be teenager.
So be on the lookout for ways to join the giving.
~~~
One last thing.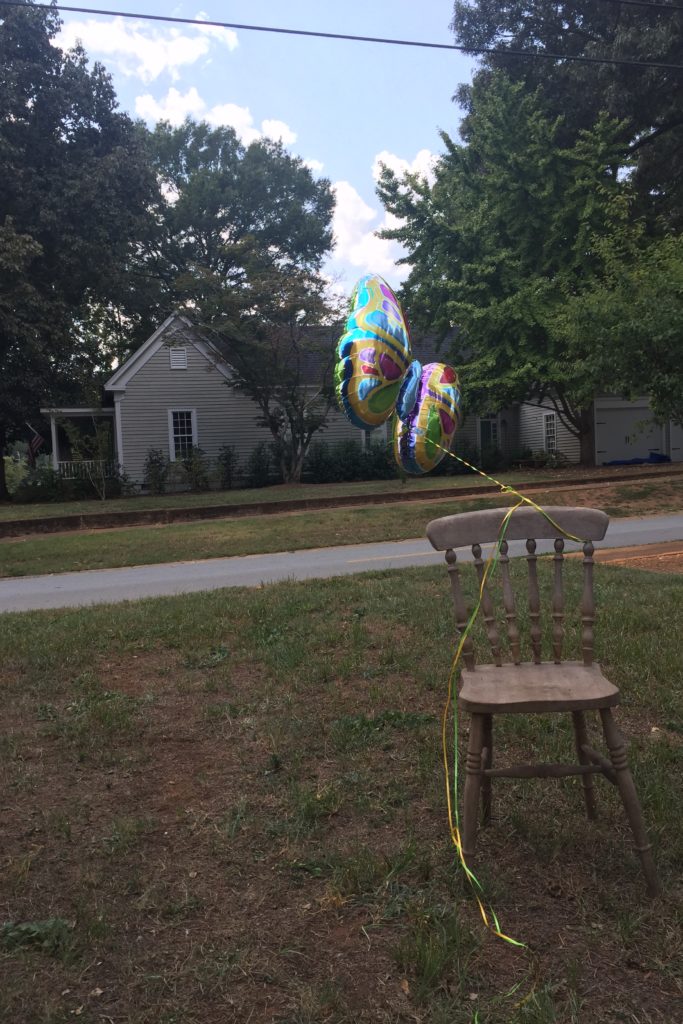 Look beyond the dead grass (we are having a drought here) and see the balloon.
The balloon I bought last Friday, the day before our event, in hopes of attracting attention our way.
That's why I'm doing this again for Ronald McDonald House Charities.
The balloon.
Or the story behind the balloon. I'll get to that next post.
And as long as I have your attention, any fundraising ideas?