Especially if you are a Pack Rat such as myself.
Gina's post about her beloved Cubs going to the World Series triggered memories of those exciting years in the early 90s when the Braves went from worst to first.
John and I had been married a few years, were childless and lived 10 minutes from Atlanta Fulton County Stadium.
I commented to Gina that I should have one of those early Braves' World Series tickets somewhere.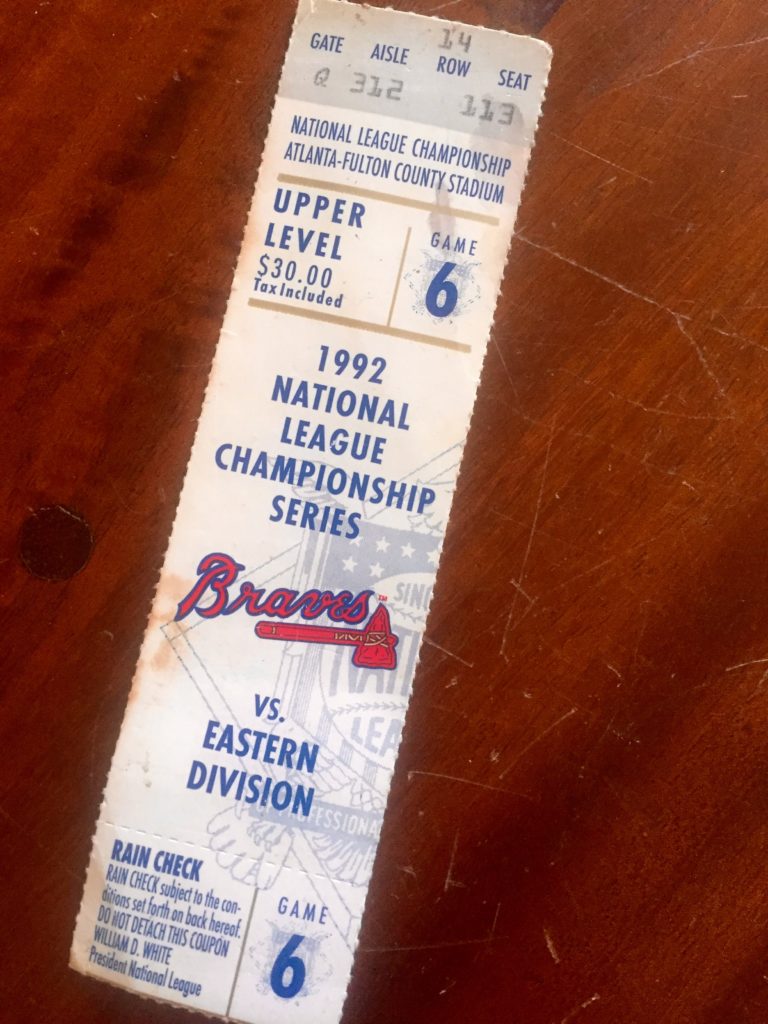 Here's what I found in my bedside table. Not a World Series ticket, this was for a playoff game against the Pirates. They lost this game but Game 7 was one of the all time great Brave finishes with Francisco Cabrera's two out bottom of the ninth hit scoring David Justice and Sid Bream.
Hence, the Braves made it to the 1992 Series against the Toronto Blue Jays.
Dad came up for a game. The one clear memory I have of that night was looking down and thinking something is not right with the maple leaf on the Canadian flag.
But why wasn't the World Series ticket crammed in the back of the drawer to my bedside table?
You see Gina, World Series tickets are big and very fancy. Just the kind of sentimental keepsake a reformed Pack Rat such as myself couldn't bear to throw away.
Then I remembered.
Upon entering the stadium in the crush of folks, I went to the bathroom. (Some women tend toward paranoid at the notion of being trapped in the middle of a long row of seats at important sporting events and having to excuse themselves over and over to the bathroom.)
I went to the bathroom, waited in a very long line of women, took care of business, washed my hands, came out, met dad and up we went. Arriving at our section in the upper deck, we pulled out our tickets.
Alas I had no ticket.
Blood rapidly drained from my face through my throat — pooled in my stomach — and I became very sicky.
My dad had driven seven hours. We stood inches away from our seats. And I had lost any proof that Seat 113, Row 14, Aisle 312 was my very own.
No one in the universe felt worse than I did at this moment  — with the possible exception of the person who attached the Canadian flag to the pole upside down.
No memory remains how we talked our way to our row.
Once seated, I constantly checked the entrance to our section for a character clad in dark leather wearing a grimy, bent-to-hell New York Yankees cap. The specter who was sure to march up to our row, motion at me saying, "Hey, missy get your @** out of my seat." Then Braves' Security would arrive to escort dad and I in the walk of shame back down the ramp to probable arrest.
I didn't relax till the seventh inning. If that.
Thankfully nobody in the crowd coursing through the cement ramps of Fulton County Stadium found a trampled ticket face down in a sticky pool of Budweiser.
And messed with my World Series memory.
So hold on to those tickets all ye Cubs and Indians. And enjoy the show.
The Lord has his eye on the sparrow —
and those of us scattered-of-mind at the most inopportune times.
Lost tickets anyone?