Dolly Parton called sweet tea 'the house wine of the South" in the movie Steel Magnolias. 
Just between you and me and a box of Tetley, when I came on the scene, my mother was a iced tea sweetened with Sweet-n-Low drinker. Therefore I became same.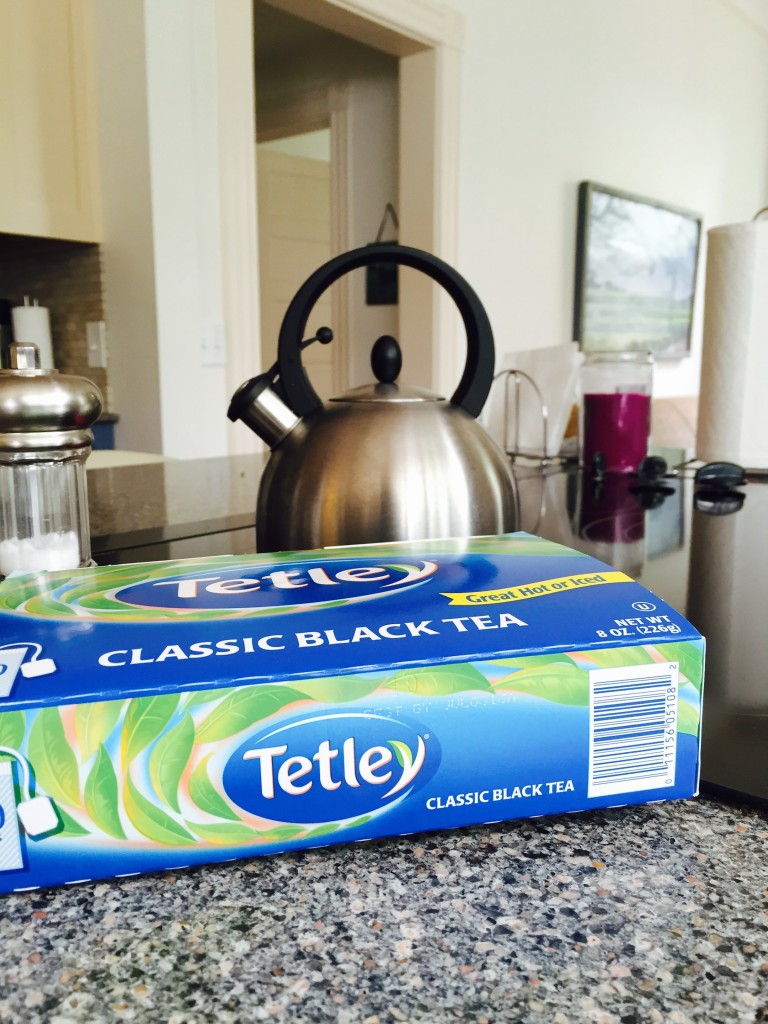 It wasn't till a couple of summers ago writing a piece for local magazine — that I began to question why had my South Georgia momma sweetened iced tea with Sweet-n-Low? For in researching my story, seemed like everyone else with a South, North, East or West Georgia momma had a pitcher of sweet tea in their refrigerator.
In talking to my mom when writing the earlier piece, I learned that my maternal grandmother did have a pitcher of sweet tea in their fridge, but that my mother — when pregnant with me in the 1960s — turned to Sweet-n-Low to save calories.
In the 60s, doctors told women to gain only 6 ounces during pregnancy. Thank you 1960s obstetrics. You are why I grew up deprived in the iced tea department.
I had to learn the ways of sweet tea from my friends.
*  The brand of tea is important. (Though depending on who you talk to, the best kind changes like Falcons fans after a loss.)
*  Color is important.
*  Clarity is important.
Yes, it sounds like we are talking about diamonds.
Wanting to give up soft drinks, I started making sweet tea that summer and was baptized in beauty of steeped tea leaves.
I picked up a few things from my sources for that article that have grafted their way into my sweet tea mystique.
Heather — Tetley is king. Therefore I use Tetley. And this is the only reason I use Tetley, because Heather says it is smooth. Not sure what smooth means to tea but it seems to be an important factor.
Bob — Bob was big on clarity. Therefore I always look to see just how clear a batch is. Some people say a pinch of baking soda is the key to transparent tea.
Mom — Talked about the color of her mother's, my grandmother's, tea: Amber. I know. Sounds like a exotic dancer, but it's a color you strive for in tea. Not sure exactly what Amber tea is but as Justice Stewart said about hard-core pornography in Jacobellis v. Ohio, "I know it when I see it."
You just know if your tea is the right color.
Pam — I have Pam to thank for the half sweet/half unsweet rule. She grew up with sweet tea in the fridge as did all my sources, but now she cuts it in half.
That's what I do. I order it way in restaurants. Fix it that way at convenience stores. And in my home.
It still tastes plenty sweet for me and saves a few calories.
Today was the day to make the first sweet tea of the season.
I dug out my two pitchers and fixed me a glass.
I use a recipe from Allrecipes. It's pretty standard operating procedure from listening to all my sources and it works for me.
First, put the kettle on.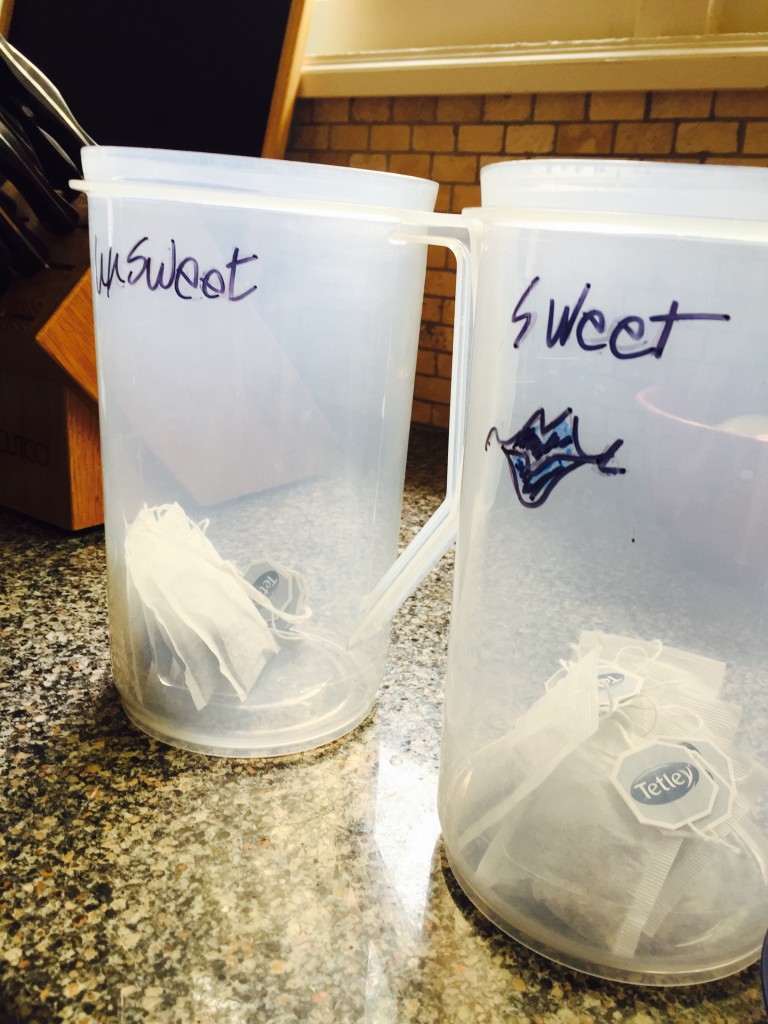 Have your pitchers waiting with six tea bags. You can put a pinch of baking soda in the bottom.
When the water boils, pour two cups on the bags and let steep 15 minutes.
Once that is done — you are almost there.
Take out the tea bags, stir in 3/4 sugar in the sweet tea container.
Then put six cups cold water into the concentrate in both pitchers.
Then I poured half sweet and half unsweet.
What about you?
Sweet or unsweet?
Any secrets to share . . . ?