"Your mother is flooding Facebook with pictures of the eclipse," my husband said to my 24-year-old son.
"Yeah. This is her type of thing," answered my son.
Monday evening, looking at my earlier tweets and FB updates, I agreed.
It looked like a nine year old's first day with a cell phone had intersected with a Bill Nye episode.
I couldn't contain my excitement over aligning an inverted pair of binoculars snuggled into a Captain Crunch box with the sun.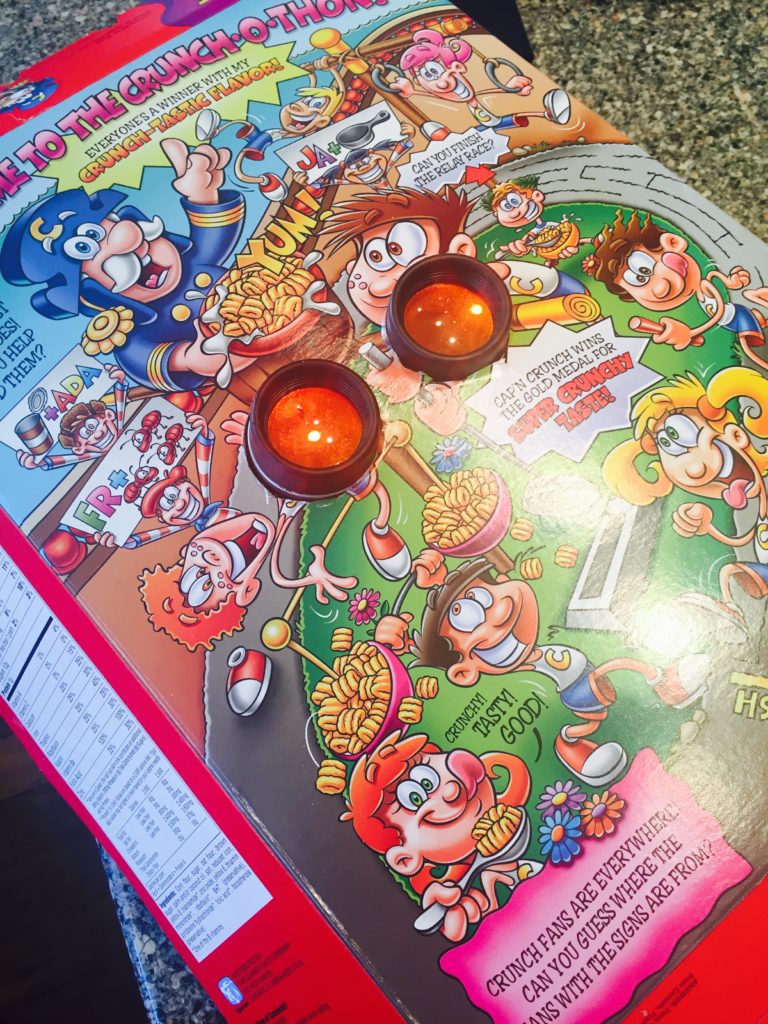 Alas, it was almost not to be.
This wasn't my first rodeo. Long ago in a galaxy far, far away, an eclipse burned me pretty bad.
Those wounds don't easily heal.
Not the eclipse of 1979, I must have completely blocked that one out. I'm referring to the Total Solar Eclipse of 1970.
Thanks to Google, here's the path in March 1970:
Though not the build up of today's digital age, in March 1970 word filtered down to Mrs. Harris' second grade at Audubon Park Elementary that something celestial was going down.
We received mimeographed blueprints on building our very own viewer with a box and pin hole. Staring at the diagram on my desk, I dreamed of a out-of-this-world experience wearing my StrideRite box. One matched only by the Star of Bethlehem Show at the John Young Planetarium just down the road.
I pictured school children in exotic locals like Pittsburgh or Brooklyn filing out into school yards. They basked in the muted sun wearing boxes patched with duct tape on their heads. We never did get around to making our viewers with Mrs. Harris. Nope. In my mind that figured for dinky old Central Florida.
Living just outside Orlando, our viewing percentage was 93.59 for that 1970 eclipse. Which would have been pretty great, except the clouds stole the show. Couldn't NASA do anything about this? For pity's sake, they were 40 minutes due east.
It did get dark, but not any darker than before a bad thunderstorm and those happened pretty regularly in Central Florida, back in the day.
My teacher didn't even remember to mention it.
Talk about a gigantic BUST.
When sky-high expectations of a six year old burn to a crisp free-falling back to earth, it's hard to trust again.
So when all the hype started about this August 2017 event, I didn't even click.
Fool me once...
Until my phone rang last Sunday afternoon and my twice-monthly Monday cleaning buddy asked, "So were going watch this eclipse right? You're my eclipse buddy? After we tidy-up it's solar blackout par-tay."
She seemed psyched.
I try not to crush the hopes of others — no matter how futile, so I offered a lame, "Sure . . . I guess."
With those words, I inched a bitty step toward healing; a tiny spark kindled in my breast.
I didn't get to make that dopey box, foil and pinhole contraption 47 years ago.
"As God is my witness, I'm bringing my A-game this time around!"
Yeah, I can't go so hard on my long ago second grade teacher because those flippin' viewers are pretty complicated. I gave up after 15 minutes. Can't imagine trying to do that with 25 six- and seven-year olds.
On Monday morning, I thanked my lucky stars I read about hooking up the binoculars cause that's about my difficulty level.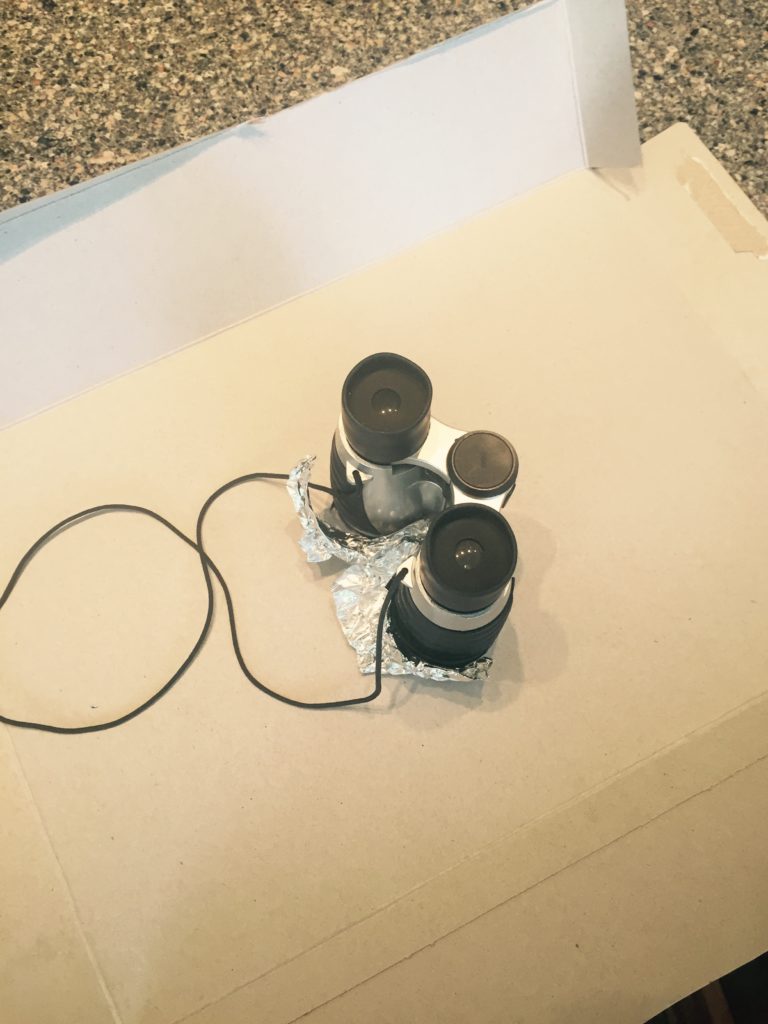 Around 1:20 p.m. my bestest DIL, Olivia, came through the back door and announced, "It's supposed to be starting."
Starting?
My pulse quickened.
In my mind, the moon raced across the sun at the speed of a cloud on a summer's day.
"I'm going out," I announced with a confidence I didn't feel.
I mean what's the big deal? This eclipse thing is not going to break my six heart again. I'm stronger and wiser.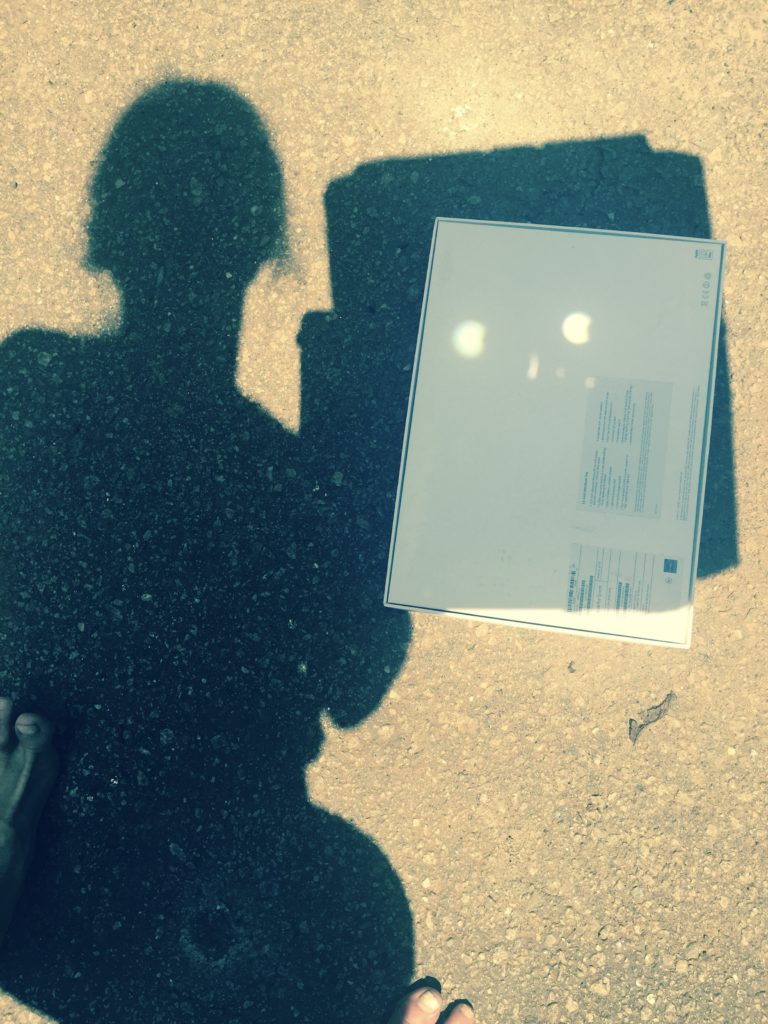 I looked once.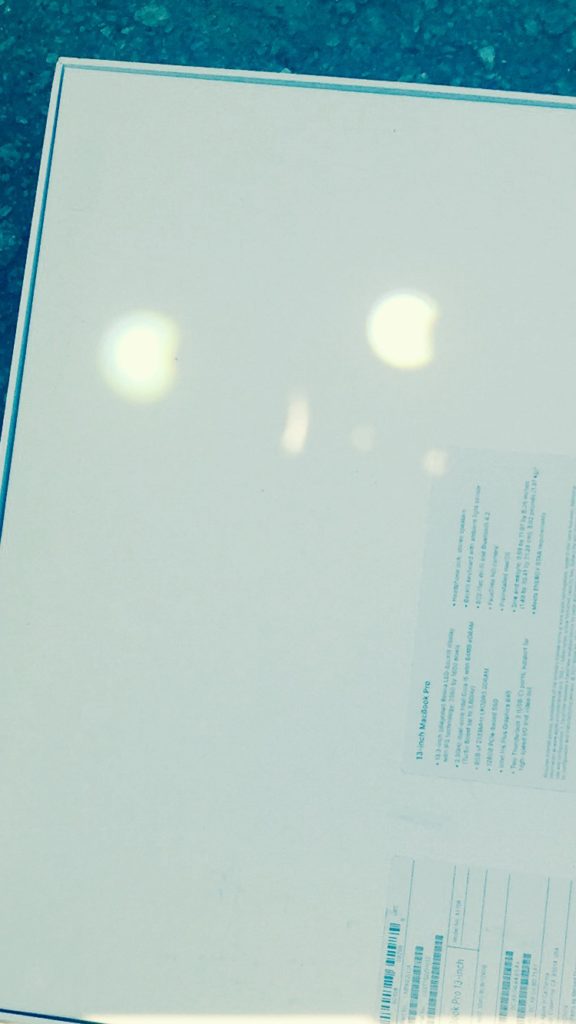 I looked twice and checked that my finger hadn't inched over the lens.
Nope.
I looked thrice. Checked my fingers again.
If my thumb wasn't blocking the binocular lens, then that shadow must be . . .
THE MOON!!!!!!
The NPR videos, the NASA computers and apps, and the 1970's Weekly Reader weren't lying — it was real!
Yes Virginia, the moon occasionally blocks the earth from the sun and you can jimmy-rig a box and lens to view it.
We laughed and snapped photos and had quite the party.
Madison, Georgia experienced a 98 percent blockage of the sun.
One thing I didn't expect was how the temperature noticeably dropped.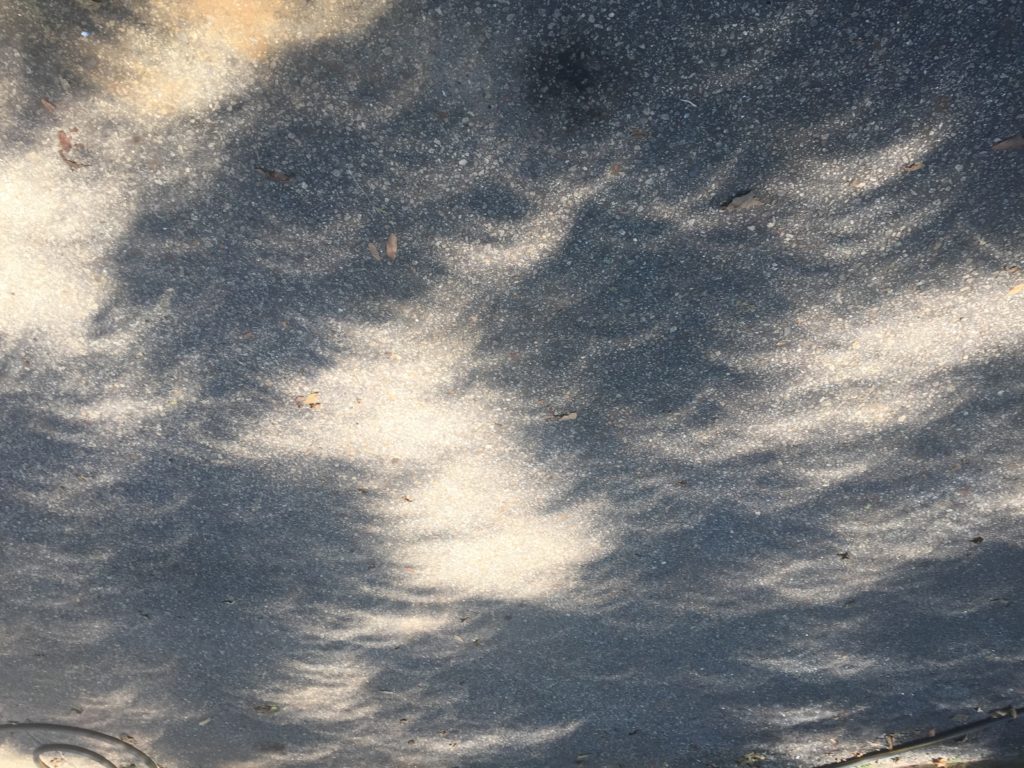 Unfortunately (or maybe not), our phone cameras couldn't begin to capture the light outside.
The light is so cool. Like the world is polarized.

— Jamie Miles (@SouthMainMuse) August 21, 2017
My mother described it much better.
Being outside with 98 percent of the sun blocked was like walking into a Technicolor movie.
Yes, I blew up my Twitter feed with silly photos.
After 2:38pm, we sat on the porch and immersed ourselves into the slowly brightening world. And double-pinky swore, we were totally road-tripping to Dallas in 2024.
I guess like my son said,  this "was my type of thing."
After all, 47 years is a long time to wait for a six-year-old girl.
Total Solar Eclipse 2017, your thoughts?