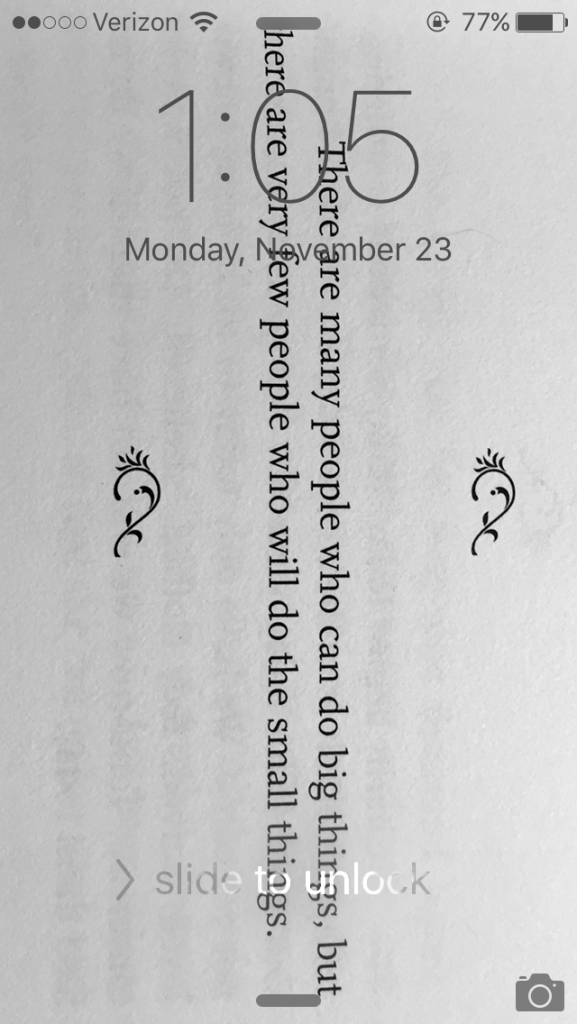 This is a pic of my phone. My screensaver is a Mother Teresa quote:
There are many people who can do big things, but there are very few people who will do the small things. Mother Teresa.
That blew me away.
For someone who likes to study human nature, rarely does a thought so captivate me. A thought which encapsulates the 21st Century American culture.
We all want to solve the Syrian refugee crisis. Take away a Christmas morning with no tree or presents for innocent children. Erase a table void of turkey, cornbread dressing and pumpkin pie.
But it's the small every day giving that truly matters.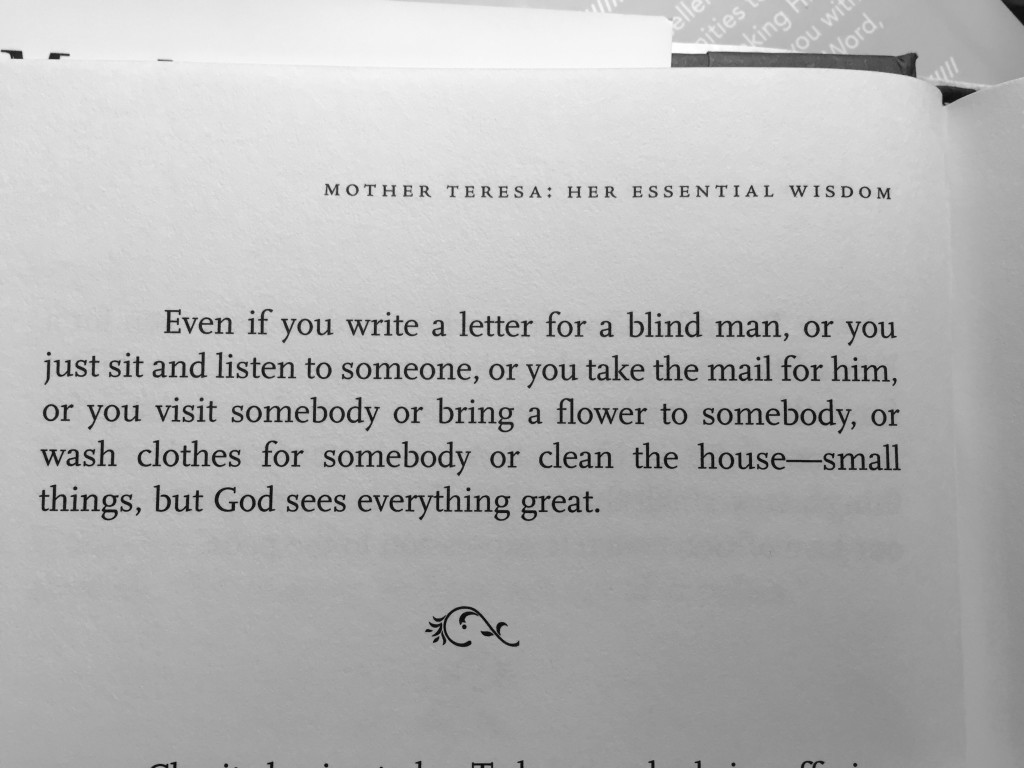 The giving of our time.
Interrupting our work, our shopping for the perfect meal, our quick dash into Starbucks for a treat for us because we truly had a hard day.
The message of Mother Teresa's words is that true giving maybe nothing more than giving myself. My time. My attention.
My time when my brain and my heart are engaged with another, no matter how inconvenient.
When someone stops by my door in the middle of the day. In the middle of my time to write. After I've cleaned the house and started dinner. And done laundry. After I've checked off all my duties for everyone else. When it's time to eek out a sliver of time to write 500 words.
A giving that stops and listens and finds some work for someone who needs a few dollars.
Last week, I went out with my son to run. A teen stopped and asked to use my phone. After seeing her try a few numbers, it was obvious she wasn't getting in touch with the person she needed to.
Rather than just smiling and taking my phone back, I asked if I could help. She was walking to an interview at a restaurant downtown. She wasn't sure where the restaurant was located.
Looking up at me and gesturing toward her typical teen Saturday dress she asked, "Does this look okay for an interview?"
That broke my heart a bit.
"Would it help if I drove you to the interview?"
She looked a little puzzled before she admitted, "Yes."
After we figured out what restaurant she was going to I said, "If I was an employer, I'd most want someone I could depend on. Who would be there when they were supposed to. A person with a good attitude and who did good work."
She wanted this job to help pay for her GED. We talked and I tried to give her positive thoughts. "You are so young, don't be discouraged."
She smiled and said that's what her mother tells her.
She thanked me for driving her downtown and I assured her it was my pleasure.
"We all need encouragement. Even at my age — I need encouragement," I added with a laugh.
That's what I wanted to say to you this week of Thanksgiving.
Take time out to do the small things.
For often the little things really aren't that little after all.