Ten years is a long time. Or is it?
It seems like a blur when I think about what has happened in the last 3,650 days.
Joining on with Mama Kat's Writing Workshop this week selecting prompt 5:
Find a photo of yourself taken 10 years ago and display it on your blog along with a current photo. How have you changed since the day that photo was taken?
I found this photo in an envelope marked FEB. '03.
That's close enough for me.
That's me and my Hannie.  I remember the day this photo was taken. March 3, 2003. It was after church and two years to the day that she came into our lives at 5 weeks of age.
Then I found this photo on my phone taken last month at  lunch after church.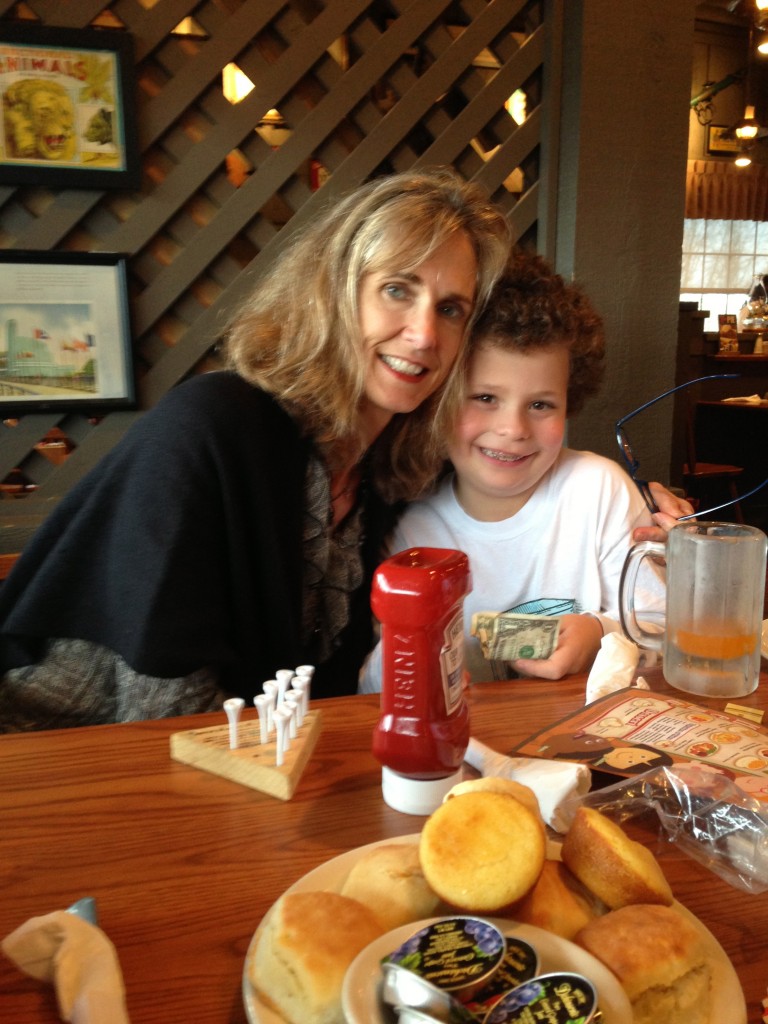 How have I changed?
First an observation. In the older photo, I look genuinely happy. After almost half a decade of fertility treatments and adoption drama, I had my little girl. And also in February 2003 we were starting the process to adopt our second child. See second photo.
The older me looks a less joyful, more smiling because a child pointed a phone at me over lunch. I'm sure my mind was on my ill Dad, work I needed to wrap up, concerns about children — or maybe I just was deeply distracted whether to order breakfast or lunch? Or maybe I was thinking why did I order chicken fried steak? I should have gotten the eggs and sausage.
Other happenings in the last decade:
1.  The little boy I am clutching in the recent picture is the result of that 2003 adoption process. In October of that year, I received that life-changing gift.
2.  I weathered a mid-life crisis of sorts. One in which I discovered a passion for writing and went off the deep end on the aerobic activity.
3.  In the last ten years, I completed nine triathlons. See number 2. Twenty half marathons, a rough guess estimate. And two marathons. No guess on that. I remember every step of those.
4.  Discovered I'm good at this writing gig. I wrote a humor column for five years. Won first place honors twice and second place once. Was totally shafted that year. Won a third place GAMMA award for a story on the hungry in a county with plenty. Enough self-aggrandizing. Now if I can only get around to updating my website. Maybe that will get done in the next ten years.
5. Thankfully, my marital status to the same great guy hasn't changed.
6. I worry less and worry more. I fret less over appearance, what I do and don't get invited to and how my children will turn out. I worry about running out of time in life as a general principle and on little things like deadlines. And I still worry about my children but now it is more centered on their individual strengths and weakness.
Worry is debilitating. Need to work on eradicating fretting in the next decade.
7.  My hair. Don't keep it dark anymore. Still have a very, healthy dose of highlights applied every 10 weeks or so.
8.  Confidence. My confidence level is at an all time high. Which really isn't saying much. But I've learned that the greatest obstacle I have to conquer in life is myself.
Wow. I like that.
What about you? How have you changed in 10 years?
P.S. I've now learned how to stop. See number 8.