comments
The outpouring of love and affection shown David Cassidy in the last days before his death was genuine and heartfelt, but part of me wonders — where were all these girls in my circle of friends at Audubon Park Elementary?
Back then all my friends had posters of Donny Osmond on their walls. They wore pairs of purple socks and knew all the words to Sweet and Innocent.
Who would want sweet and innocence, when this guy was on every Friday night?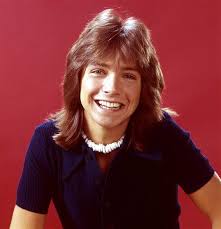 In light of today, Keith Partridge was sweet and innocent. But back then that smile, those shaggy locks and puka shells were–slightly dangerous.
In the early seventies a typical Friday night consisted of my younger sister, myself and Mrs. Cox, our sixty-something babysitter, gathered around the television set teetering on a TV cart. The Brady Bunch came on first, at eight.
The world loved The Brady Bunch. With their parents and Alice to shepherd them, they were an after school snack of whole milk and apple pie. Their group, The Silver Platters, was formed to win a $100 prize for an anniversary gift for Carol and Mike. But to this second grader, Marsha, Greg, Jan, Peter, Cindy and Bobby were a warm-up act for The Partridge Family.
 The Partridge Family had an edge. With a single mom, manager and rehearsals in their garage, the group had coolie instruments: a drum set, electric guitar, electric keyboard and a Tamborine. Keith sang of waking up in the morning, grabbing pillows and screaming out things like "I think I love you." Whoa. A lot of pseudo-adult imagery for a seven year old in 1970.
The Partridge Family meant 30 minutes to watch Keith Partridge for real. He talked, he sang and joked with Danny, all dreamy things when the rest of the week he was just an adorable image on a Tiger Beat cover.
"Why doesn't he cut that hair?" Mrs. Cox would ask, every. single. week.
Why would he cut that hair? Of all the cool shags in the universe, Keith Partridge was the pinnacle.
Looking back on it, David Cassidy was just too pretty for his own good. The most adorable 20-year-old package of smile, eyes and bangs ever.
When you live with a guy — a 3 x 5 foot guy — taped to your wall, he becomes part of your life. He's in the back of your mind (or forefront) when the social pressures of third grade just got to be well, really icky.
If Keith met me, walked into life back then, I knew he'd be kind and smile. We'd get into some zany predicament or mystery that would be solved in 30 minutes.
He'd take me to the fair and we'd ride the Merry-Go-Round. He'd smile and break into the perfect song.
Or maybe I'd be his special guest at a Partridge Family Concert.  I'd be seated at a table with a red-checkered cloth and candle flickering in a jar.  Concert goers would dine on spaghetti and a salad while Keith and the Family rocked out on stage.
As the years rolled on, my David poster came down and Rod Stewart took his place.
I didn't need the fantasy of Dream Dates with David, though not sure exactly when they ended . . .
Surely by freshman year of college. Or was it when my first son was born?
At the end of his earthly life, I hope David Cassidy realized what a sweet-and-innocent forever impact he had in the lives of untold legions of girls, like yours truly.
Doesn't somebody want to be wanted like me?
Yes dear David.
We all love you.
4-ever.