comments
3:15 a.m.
That's when my alarm went off Saturday morning to drive down to Cordele for the Georgia Veterans Sprint Triathlon.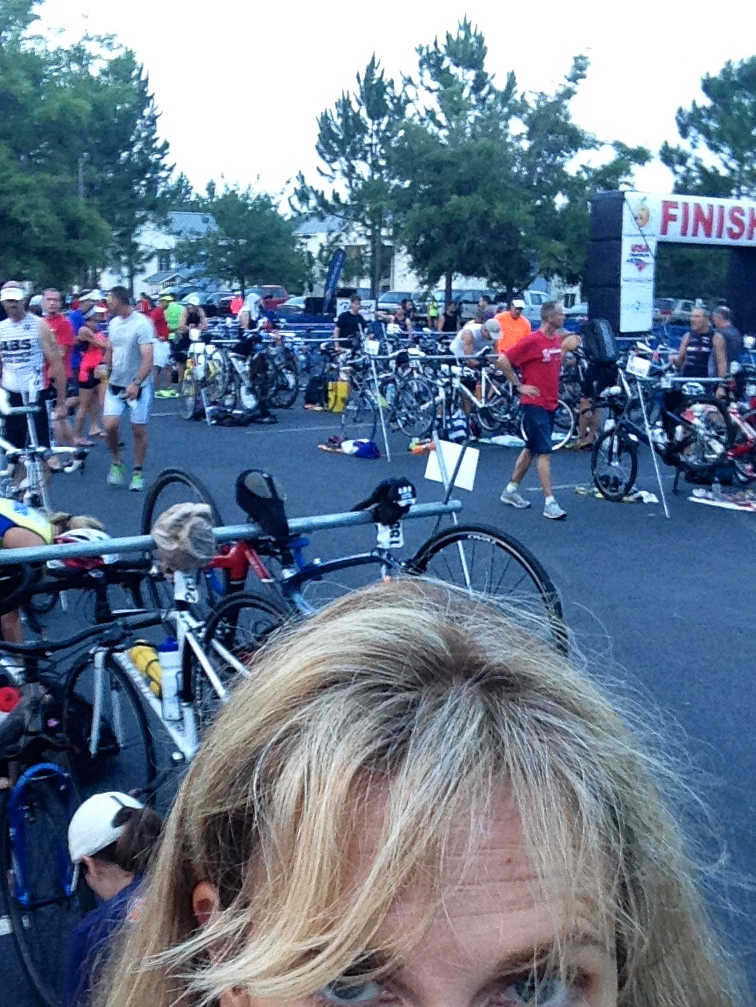 See. I made it.
And in complete journalistic integrity, I admit to totally cropping out my under-eye circles.
*  *  *
Gosh you all. Here it is a week later and I haven't finished this post. Crazy week. Even crazier me but there was a nugget from this race that I want to share.
See. I read national triathlon pubs, posts and blogs. They are good and all. But what about us midlife peoples who are just doing the best that we can to make it 2.5 hours down the road in time to start?
For example, I recently read an article about the swim. How when we swim laps in a pool, we get mini-rest breaks touching the wall to turn around. You don't get those built in, bitty rests in open water. This well-meaning expert suggested to do your flip turn a few feet in front of the wall with no rest or push off.
Are you flippin' kidding me? I can't even do a flip turn this days without sending myself into a vertigo death spiral. Much less do one in front of the wall and not push off.
For what it's worth, here's a real midlife try-athlete's advice on the swim:
The park was quite lovely.
The little swim course.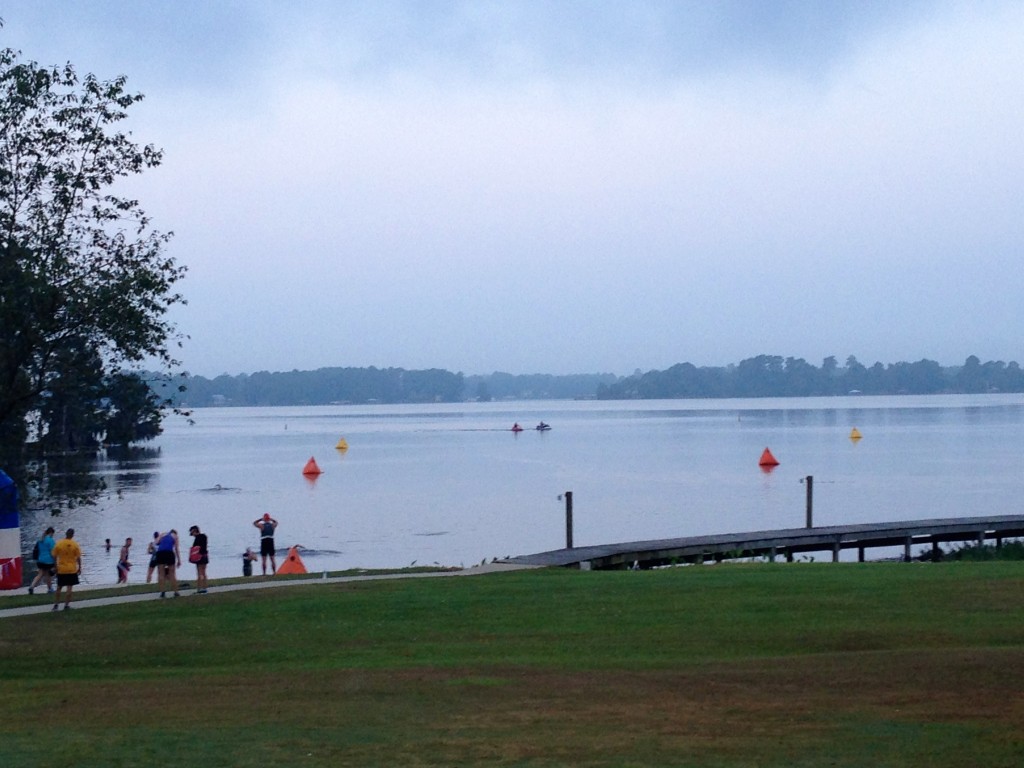 I didn't think it looked 400 yards. I asked someone if we turned at the yellow buoys and she said, "yes."
Maybe that was my problem. I thought I'd get it over lickety-split.
When our wave — 50 and overs — got up to the water, I was in the front.
I don't know if it was because I was in front of the pack, but soon it became apparent to me — things weren't working. My breath and my stroke and my pace were a jumbling mess.
To swim well, you glide through the water. Cutting through the water as smooth as Everclear in trashcan punch.
That morning my forward progress through the water felt like a ride in an out-of-balance on the spin cycle after taking a shot of rot gut.
Pooh. My heart, my stroke, my breathing were all messed up.
What did I do? Attempt a flip-turn mid lake?
Heck no. I flipped on my back and started backstroking. My breath settled back down, I got into a rhythm and cruised.
Till I thought, "Jamie. You are in a race. Flip right back over this minute and swim like you aren't the looney woman doing the backstroke in a triathlon."
I flipped over and tried the freestyle. Nope. Still weird. Can't get a pace. Back to the backstroke.
I tried this two more times before it occurred to me, this backstroke thing was working.
My heart rate, my breathing, my pace — it all felt right.
So I did most of that little swim on my back.
Got out of the water and headed to transition.
At races end, I met up with my friend, Aubie, and told him about my swim fail yet win.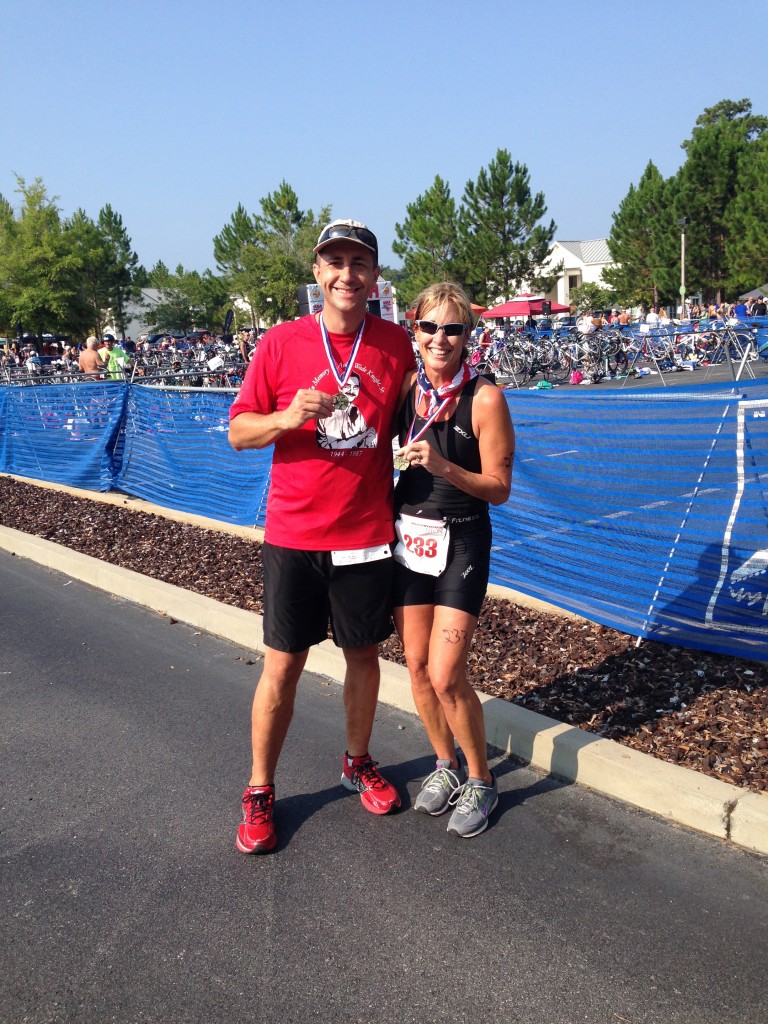 Then I got home and looked at the results. I finished fourth out of 13 in my age group.
And the bigger surprise, I had the third best time in the swim.
So here's the midlife takeaway.
Go with what works for you at the moment. No matter if it's not convention or slightly goofy. Or really goofy.
I love to swim freestyle, but maybe I started too fast, or maybe I was trying to swim too fast — whatever reason, I couldn't regain a comfortable pace with that stroke.
But I did on my back. At least for that moment. That race.
I learned don't be afraid to change midstream. Have confidence in what's working. If you have clarity of mind and body, go with it. Even if you've never tried something that way before.
One good thing about driving 2.5 hours south of Atlanta to race is not that many of the competitive metro crowd shows up. At least till the secret gets out that this is a great little race.
A very fun morning. And a lesson learned that I won't soon forget.
Any backstrokers out there?
And a quick shout out for two Cotton Patch Tri-Club members, David Burback and Joe Cardwell, up in Canada today.
Tomorrow they race the Mont Tremblant Ironman. KILLER DILLER. Wishing you guess the bestest racing day ever.